When will 'Game of Thrones' season 7 premiere? New rumors circulate about return date.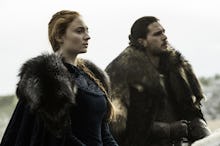 For fans of Game of Thrones, waiting for the seventh season of the HBO fantasy drama has not been easy, particularly considering that the network has yet to announce an official return date. 
But, despite the fact that HBO is being hush-hush about it, things are bound to get spoiled when you have such a large ensemble cast. Actor Liam Cunningham, who plays Davos Seaworth, recently revealed that the series will roll out in July. 
Is winter coming in summer 2017?
After season six wrapped up, HBO announced that season seven wouldn't be released until summer 2017 and would only be seven episodes long. The showrunners delayed production for season seven because they needed to film in colder weather. 
So while we knew that the seventh season would come sometime in summer 2017, Cunningham brought us even closer to an actual date in an interview with the Independent. 
"I've been disappointing various people around the world because it was meant to come out in April. It's July now, I think," Cunningham stated. "There's going to be a launch and something special happening this year for the premiere. The bad news is, there will only be seven episodes and the final season starts again as far as I know in September."
If he's right, at least we know production for the final season will began pretty quickly. 
How did 'Game of Thrones' leave off?
With season seven hopefully coming in July, we should probably remind you of what went down at the end of season six. Cersei, or should we say Queen Cersei, surprised everyone by using wild fire to burn down the Sept of Baelor and annihilate everyone in the building, including the High Sparrow and Margaery Tyrell. As a result, her son, King Tommen, kills himself. 
Now that Cersei holds the most powerful position in all of Westeros, we can only wonder what will happen to her in season seven, especially considering that Daenerys is finally approaching. 
For those looking forward to Cersei's reign, after the March 6 episode of Big Little Lies, an "in production" look at actress Lena Headey as Cersei aired. A Game of Thrones fan account recorded it and shared the short video below on Twitter.
Mic has ongoing coverage of Game of Thrones. For more information check out our Game of Thrones hub here.