Afghan family with valid visas torn apart at LAX despite halt on Donald Trump's Muslim ban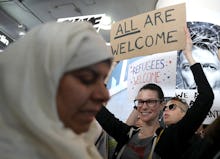 President Donald Trump's Muslim travel ban has torn apart yet another family. At Los Angeles International Airport, U.S. Customs and Border Protection agents detained a family with three children who are 7 years old, 6 years old and 8 months old.
The family, whose identities remain anonymous out of safety concerns, arrived in LAX with valid special immigration status visas, the New York Times reported. Afghanistan is also not on the list of the list of seven banned majority-Muslim countries from Trump's original executive order signed on Jan. 27.
The family was also detained despite a federal judge's stay on the order.
According to Fusion, the father was detained at LAX for two days before being sent to an immigration detention center in Orange County, California. His wife and three children were then sent to another detention center. The family was reportedly supposed to be sent to a family immigration detention center in Texas, but an emergency court order on Saturday blocked that from happening.
Carl Rusnok, a spokesman for the U.S. Immigration and Customs Enforcement, told the Los Angeles Times in a written statement that ICE will "fully comply with the March 4 judicial order and all other legal requirements." Rusnok would not give a reason for the family's detention.
The family will have a hearing for their case on Monday afternoon. Trump also signed a new executive order on immigration and refugees — that could impact the family as well.