How the new Muslim ban is different from the old one: The 4 biggest takeaways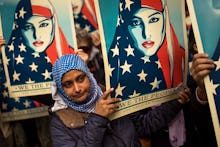 President Donald Trump is set to roll out a new travel ban on Monday, more than a month after the botched rollout of the executive order that multiple federal judges blocked from enforcement. The new ban has a lot in common with the old ban, with a few amended details that the Trump administration presumably hopes will overcome the legal pitfalls that brought down the first incarnation.
Here are the four biggest changes:
Legal permanent residents and current visa-holders are not impacted
Trump's initial Muslim ban led to chaos at airports across the country, with U.S. Customs and Border Protection agents detaining and deporting travelers from the seven countries included in the ban who had valid visas or green cards.
Federal judges said the detention and deportation of travelers who had valid visas violated their due process rights, and wound up placing a stay on enforcing the order.
The new order will specify that legal permanent residents and valid visa holders will not be impacted, White House counselor Kellyanne Conway told Fox News Monday morning.
Religious minorities no longer given priority
In the first order, religious minorities from the seven banned countries would get priority over religious majorities. That language is no longer included in the order, according to Fox News.
Since all seven nations in the initial ban are majority-Muslim countries, that meant Christians would get priority.
Critics of the ban said that amounted to a religious test, and challenged the order on those grounds. They bolstered that claim with Trump's campaign pledge to ban Muslims from entering the United States.
Iraqi citizens are no longer included
Initially, the ban suspended the issuance of visas to citizens and refugees from seven majority-Muslim countries: Iran, Iraq, Libya, Somalia, Sudan, Syria and Yemen. But the new ban removes Iraq from that list, according to the Associated Press.
The AP said Iraq was removed from the list of banned countries after the Iraqi government agreed to "increase cooperation with the U.S. government on the vetting of its citizens applying for a visa to travel to the United States."
Syrian refugees are no longer banned indefinitely
In the initial order, Syrian refugees were subject to an indefinite ban.
The new order, however, doesn't single out refugees from Syria, according to Fox News.
Instead, Syrian refugees will be treated like all other refugees from across the globe, who will see a 120-day pause on the refugee admission program.