We know what happens to Hugh Grant's 'Love Actually' character in the reunion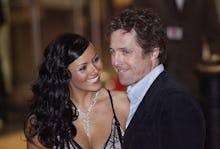 Fans of Love Actually, the romantic comedy celebrating Christmas, have been speculating about the fate of their favorite festive characters since the announcement of the follow-up short film, Red Nose Day Actually. 
Shippers of Prime Minister David, played by Hugh Grant, and his charming employee Natalie, played Martine McCutcheon, can rest easy. According to a tweet by Emma Freud, a producer of the short film, the lovebirds got married. 
Who is still together?
McCutcheon spoke about the reunion while appearing as a guest presenter on Loose Women.
"When they asked me if I was doing it, I said, 'Is Hugh doing it?' and apparently, he said, 'Is Martine doing it?'" 
"I'm hoping me and Hugh are still together because we're filming together!" she added. "I'd love for them to have a couple of kids and for him to still be doing the silly dancing."
Helmed by Love Actually director Richard Curtis, the film will follow up with the characters over 13 years after the conclusion of the original film that continues to inspire thinkpieces every holiday season. Much of the original cast will reunite for the project. 
What is Red Nose Day? 
Red Nose Day, which began as a campaign to raise money for kids in the U.K. and Africa, is celebrated every two years with a TV event featuring comedy and documentary films airing on BBC One. 
When will it premiere?
Red Nose Day Actually will air during the Red Nose Day broadcast on March 24 on BBC One in the U.K., and on NBC May 25 in the United States. 
Mic has ongoing Love Actually coverage. Please visit our Love Actually hub.