Why is 'RuPaul's Drag Race' moving to VH1?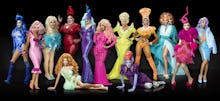 In a bit of breaking news that floored the Drag Race fandom, Logo and VH1 announced RuPaul's Olympics of drag, RuPaul's Drag Race, would air its ninth season entirely on VH1, instead of its original network Logo. That network, which aired the past eight regular seasons and two All Stars seasons, would only air encore presentations of the episodes.
While it's jarring for any show to channel hop, the news shouldn't be that shocking. VH1 simulcast almost the entirety of RuPaul's Drag Race All Stars season two last year. That's not a decision you make on a whim; there were clearly plans being formulated to change the way Drag Race aired based on the show's VH1 ratings. Obviously, they were good enough to make a permanent shift worth it.
But this goes beyond just Drag Race — which, now that it's moved, leaves Logo with basically no programming. Their only major original series now is Finding Prince Charming, which is hardly enough to build a brand on. Combined with reports that Viacom, which owns VH1 and Logo, has been looking to consolidate its networks, Logo seems to be not long for this world.
Moving Drag Race to VH1 not only gives it a bigger platform, but it keeps the show safe if Logo disappears. There's no obvious timeline for a network to be discontinued — and Viacom might want to make sure Drag Race can sustain on VH1 first — but its termination feels more like an inevitability than a possibility at this point. Fire Island will only take it so far.
What does this mean for the future of Drag Race? Unclear; much of it will depend on how the show performs, especially in its new Friday time slot. But if it's a hit, VH1 will likely want it to run as long as RuPaul wants to keep churning out America's next drag superstars.
Season nine will debut March 24 at 8 p.m. Eastern on VH1.
Mic has ongoing TV coverage. Please follow our main TV hub here.