What to know about Donald Trump's latest executive order on immigration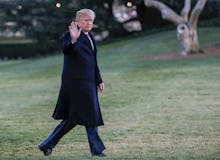 After a delay following his speech last week, President Donald Trump has signed a new executive order on immigration. 
Trump signed the order behind closed doors and without cameras. The latest iteration comes after Trump's first order led to airport detentions and legal challenges that eventually banned its implementation nationwide. What Trump signed Monday narrows the scope by barring travel to the United States for 90 days by people from six of the Muslim-majority countries in the original order: Iran, Libya, Syria, Somalia, Sudan and Yemen. Iraq was removed from the new order after the government there issued new vetting procedures, Reuters reports.
The new order still prevents Syrian refugees from entering the U.S., but only for 120 days — like all other refugees — instead of indefinitely. And the order removes a religious exemption. The order also specifically does not apply to people from the six countries targeted by the order who have existing visas or green cards. A final major change: The new order no longer prioritizes religious minorities in the six countries targeted by the order. The revised order is expected to stand a better chance of holding up in court. 
Mic's Emily Singer has the four biggest takeaways between Trump's new order and the old one. Read the latest here.
More on immigration: At the beginning of April, the U.S. will halt "premium processing" of H-1B visas for six months. The visas are generally reserved for highly skilled workers in the technology, medicine, engineering and mathematics fields. Rather than being processed in as little as 15 days, they will now take months to clear. The move is sure to anger some sectors of the American economy that rely heavily on foreign workers, but the H-1B program has critics across political lines. Some immigration attorneys say the delay has more to do with a federal immigration bureaucracy that is overworked and understaffed. Read more from Mic.
This is Navigating Trump's America, Mic's daily read on Donald Trump's America — and how it affects you. Welcome to the political newsletter that probably never wiretapped you. 
Wiretapping and immigration
•  Today: The president wants an inquiry into wiretapping allegations that he has not offered evidence for. How will Attorney General Jeff Sessions handle the latest political-turned-legal controversy? 
•  More: The new immigration executive order is finally here. What that means below.
•  Even more: The Supreme Court has sent a transgender teen's case back to a lower court without ruling, citing new guidelines from the Trump team.
•  Confirmed: Ben Carson as Housing and Urban Development secretary and Rick Perry as energy secretary. 
•  Trump's agenda today: Meetings with Vice President Mike Pence, Secretary of State Rex Tillerson, budget director Mick Mulvaney and Health and Human Services Secretary Tom Price. Also meeting with the head of the FCC, the veterans affairs secretary and the National Economic Council.
How Sessions' recusal is connected to wiretapping
Three days ago, Washington was buzzing about Attorney General Jeff Sessions recusing himself from any Justice Department investigations into Russia and President Donald Trump's campaign. (Sessions' recusal came after the revelation he met twice with the Russian ambassador last year after telling the Senate judiciary committee he had had no contact with Russians.) Trump's actions on Sunday show why that recusal matters — and why it may not go far enough.
Trump, drawing on unsubstantiated stories from talk radio, Breitbart and InfoWars, on Saturday called for an investigation into a report that then-President Barack Obama had phones in Trump Tower wiretapped before the election. The allegation, if true, would signal a grim, likely illegal moment in U.S. political history. But so far, Trump has offered no evidence to back up the accusation, and the rebuttals have been swift and firm. Obama's spokesman called the allegation "simply false." Former Director of National Intelligence James Clapper said that to his knowledge, there "was no wiretap activity" ordered by Obama against Trump.
Trump seems to have returned to his habit of tweeting claims that bubbled up through conservative media without evidence. (Remember how "millions of people" voted illegally?) After Trump sent the political world aflame with his call for congressional investigation, press secretary Sean Spicer said the president will "not comment further until such oversight is conducted." Rep. Devin Nunes, the Republican who chairs the House intelligence committee, said he will lump Trump's allegation into the broader inquiry into Russia. Other Republicans were similarly cautious, calling for the White House to release more information following the explosive charge.
On Sunday, the New York Times reported FBI Director James Comey had asked the Justice Department to deny Trump's wiretapping allegations. Comey reportedly said the allegation is false and must be rebutted. The department, led by Sessions, has so far made no statement about Trump's call for an investigation. The attorney general, a top supporter of Trump during the campaign, said Thursday he would recuse himself "from any existing or future investigations of any matters related in any way to the campaigns for president of the United States." At the time, the statement was seen as a response to the Democratic accusation that Sessions lied under oath about his contacts with the Russian government. But it could also be pertinent to Trump's wiretap claim.
With Trump claiming Obama wiretapped him during the campaign, does that remove Sessions from a role in deciding who handles the investigation? If so, could this be an opportunity for Sessions to sidestep future calls by the president for investigations? Most Republicans avoided attaching themselves to Trump's latest tweetstorm throughout the weekend. The same may hold for administration leaders like Sessions, who face a tough decision when Trump declares more wrongdoing: defy the president, or follow his orders without evidence?
More on Sessions and Russia: Democratic Sen. Al Franken on Sunday repeated a call for Sessions to reappear before the Senate judiciary committee. "He needs to answer some questions," Franken said of Sessions' statement during his confirmation hearing that he had no contact with Russians.
Meanwhile, seven Democratic senators are calling for Trump to release visitor logs for the White House and Mar-a-Lago. Obama's administration released White House visitor information 90 to 120 days after visits occurred, the senators wrote in a letter to Trump. They contend the clientele mingling with Trump at Mar-a-Lago should be public knowledge, along with who sees the president in the Oval Office. "Continuing President Obama's transparency policies would help dispel concerns that the wealthy and the well-connected have unfair access to your White House," the letter states.
The view from the right: The Russian ambassador visited the Obama White House at least 22 times between 2009 and 2016, according to the Daily Caller.
What the people want: Almost two-thirds of Americans want an independent investigation into whether there are connections between Russia and Trump campaign associates, according to a new CNN/ORC poll. More on that poll from Mic.
Ben Carson and Rick Perry
Meet your two newest Cabinet members. The first and one of the last Republicans to abandon their 2016 presidential dreams were confirmed last week by the Senate to become part of Trump's Cabinet. Ben Carson, the neurosurgeon-turned-author and Republican presidential candidate, will oversee federal housing and mortgage policy in the Trump administration. Rick Perry, the former Texas governor who ran unsuccessfully for president in the 2012 and 2016 election cycles, now manages the country's energy policy — which largely means he is responsible for the nation's nuclear weapons.
More news from Capitol Hill: The "repeal and replace" efforts around the Affordable Care Act continue to take shape. Conservative groups outside Congress are expressing skepticism over House Speaker Paul Ryan's repeal plan. (Wall Street Journal) 
Members of the House Freedom Caucus do not support giving consumers tax credits to help cover the cost of purchasing individual health insurance. (Forbes) 
Yet the latest draft of the repeal bill that leaked Friday did not back down from reforms that have angered conservative Republicans. (Politico) 
And the latest surveys show Americans roughly split on their approval of the health care law. This narrative continued for weeks: Voters are worried about what a repeal will bring, and Republicans cannot agree on a path forward. But the GOP has promised March will be the month major votes are taken to advance repeal and replacement of the ACA.
Big news on transgender rights: The Supreme Court has told a lower court to reconsider a transgender rights case over whether schools must allow transgender Americans to use the restroom that matches their gender identity. The high court announced Monday morning it had dropped the case after Trump's administration rescinded Obama-directed guidance that public schools must allow students to use facilities aligned with their gender identity. A federal appeals court that previously ruled Virginia high schooler Gavin Grimm should be able to use the boys bathroom has been ordered to reconsider the case in light of the new federal guidance. 
News and insight you cannot miss
•  Democrats may have little power in Congress, but they're planning weekly votes to demand Trump release his tax returns and other tricks to keep a focus on their opposition. (New York Times) 
•  Speaking of opposition: Progressive groups are pressuring Democratic senators to step up their fight against the confirmation of Neil Gorsuch to the Supreme Court. Politico has the letter.
•  Take it with a grain of salt, but the latest round of "Reince Priebus is done for" pieces are coming out. The latest from Politico.
•  Trump was angry this weekend — "pissed" and "raging mad." The Washington Post has details.
•  A tally by the New York Times finds Trump and Republicans have delayed, suspended or reversed 90 government regulations since the president took office.
•  A march is coming to Washington, D.C. on Friday. The Rise With Standing Rock Native Nations March will take place later this week to raise awareness for tribal rights. (Mic)