Relive the first 24 hours after Trump's election with new zine 'Trumpland'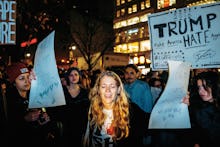 As we enter the 45th day of Donald Trump's presidency, the memory of his election — and the aftermath — becomes a little more hazy.
What's left is mostly the impression of that day: the unmitigated emotion, the tears, the celebration, the protests. Five photographers from the NYC Street Photographer Coalition managed to capture the experence in stunning clarity.
They've since assembled their images into Trumpland, a new zine that chronicles the first day after Trump's election in full, from the morning's nascent protest cries to that night's full-blown descent on Trump Tower.
All proceeds from the zine will go toward the American Civil Liberties Union.
Salim Hasbini — who, together with fellow street photographer Zach Cabanas, curated and assembled the zine — said it had been pure luck that he'd been free to shoot during the day. Hasbini had taken Nov. 9 off from his job as a marketing coordinator at Brooklyn College far in advance, thinking Hillary Clinton would emerge the election's victor and he would go out and photograph . 
When he learned Trump had won the presidency, Hasbini realized he had, in some ways, an even more important task at hand — and it was fortunate he had the day off to do it.
Hasbini's daytime photos comprise the entire first half of Trumpland, without which the story of Nov. 9 would be incomplete.
As day turned into nigh, photographers Cabanas, Mathias Wasik, Chris Voss and Youngjae Lim got off of work and took to the streets, just in time to capture some of the protest's most pivotal moments.
Wasik said he was on his way home from work on Fifth Avenue when he ran into a throng of people gathered at Union Square, which would become a central hub of New Yorkers' resistance to Trump via thousands of post-it notes that later covered the Union Square subway station. 
"There was a group of activists leading the protest, holding speeches," Wasik recalled in a Friday interview. "Then at some point they called out what everyone was waiting for: 'Let's march to the Trump Tower!'"
Wasik continued, "Everything was so raw in contrast to later protests. It was an outburst of feelings pouring into the streets of New York."
Hasbini said because he and Cabanas arranged the photos chronologically, it's easy to see the different phases of the protest and how it escalated as the day wore on.
"We found that there was increasing anger and anxiety," Hasbini said on Friday. "It goes from a car stuck in the street to someone holding a 'Pussy grabs back' poster. Then there's the next phase, a photo of someone burning the American flag, a climax of the protest."
Despite the chaos, Hasbini said he wanted to end the zine on a hopeful note. The final images show a protester holding a rose in their hand and someone else holding a sign reading "Don't lose hope."
Wasik maintains these moments could only be captured by a street photographer.
"Instead of capturing the main events and focussing on the 'big picture,' we collected fractures of the events — moments that are easily overlooked but nevertheless tell all the stories that made that election an important moment in history," he said. 
And, as painful as reliving Nov. 9 may be, Wasik believes it's worth it, if only for a reminder that "no one will be left behind."
He continued, "As difficult as things might become for many citizens of New York and the U.S., this spontaneous outburst of solidarity is something worth revisiting, as it shows the other, positive side of what happened."