Danny Masterson's rep alludes to Leah Remini playing a role in sexual assault allegations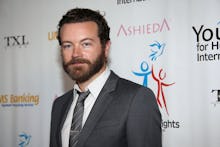 Danny Masterson, who rose to fame playing sarcastic teen Steven Hyde on That '70s Show, is being investigated for sexual assault, according to the Hollywood Reporter. Furthering the controversy is the alleged involvement of Scientology and outspoken former church member Leah Remini in the investigation. 
What is Masterson accused of? 
Masterson has been accused of sexually assaulting three women. A statement from the LAPD read: 
"The Los Angeles Police Department Robbery Homicide Division, Sexual Assault Section, is conducting an investigation involving the actor Danny Masterson. Three women have come forward and disclosed that they were sexually assaulted by Masterson during the early 2000s."
Response and accusations 
In response to the allegations, a rep for Masterson said one of the alleged victims, whom the rep claimed was Masterson's romantic partner for many years, was motivated by Remini. 
The rep sent the following statement to the Hollywood Reporter: 
We are aware of [the alleged victim's] 16-year-old allegations. It was only after [the alleged victim] was in contact with Leah Remini that she made allegations of sexual assault by Mr. Masterson. The alleged incident occurred in the middle of their six-year relationship, after which she continued to be his longtime girlfriend. Significantly, during their long relationship, she made numerous inconsistent claims that she was previously raped by at least three other famous actors and musicians. 
Leah Remini and Scientology 
Remini, an actress and comedian, is a former Scientologist who has shared her experiences in her A&E docuseries Leah Remini: Scientology and the Aftermath and book Troublemaker: Surviving Hollywood and Scientology. After leaving the church in 2013, she shared shocking stories about the repercussions she faced and has spoken candidly about the church's devotion to protecting its celebrity members. 
The church, which claims to have millions of members including celebrities Tom Cruise and John Travolta, is considered a cult by many. 
Masterson's history with the church 
Masterson, who grew up surrounded by Scientology, previously discussed his faith in Paper magazine, saying, "I work, I have a family and I'm a spiritual being who likes to understand why things happen in the world and want to learn more so that I can have them not affect me adversely. So if that's weird, then, well, you can go fuck yourself."
The Underground Bunker, Tony Ortega's blog about Scientology, reported the three women who accused Masterson of assault are also Scientologists who said the church instructed them to keep the allegations private — and that Remini's docuseries was a "key reason" they presented their accusations. The website featured images of police reports. 
The Hollywood Reporter wrote that neither Remini nor the Church of Scientology had responded to a request for comment.
Mic has ongoing crime coverage. Please follow our main crime hub here.