Iran test-fired 2 ballistic missiles this weekend, US officials say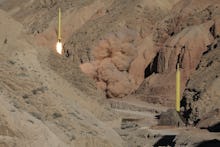 Iran test-launched two Fateh-110 short-range ballistic missiles into the Gulf of Oman over the weekend, U.S. officials confirmed to Fox News, raising concern among the Navy officers who patrol the area in warships.
While it was not immediately clear whether or not the missiles — the first of their kind to be tested in two years — had been launched successfully, one reportedly struck a barge floating 155 miles from where it was fired.
The news of the Iranian missiles broke just as North Korea was entering the international spotlight for launching four missiles into the sea that separates Japan from the Korean peninsula on Monday morning.
One senior U.S. military official, who spoke on condition of anonymity, told Fox News that the advancements Iran has made in its ballistic missile program over the past decade, in combination with the apparent efficacy of one of the missiles, was of particular concern.
According to data as of Feb. 9 from the Foundation for Defense of Democracies, Iran had conducted as many as 14 additional ballistic missile launches since the Iran Nuclear Agreement was reached in July 2015. Tehran government officials have continued to insist that such launches are not prohibited by the deal.
In the wake of one such successful launch, President Donald Trump tweeted last month that Iran had been "formally put on notice."