'Diablo 3' Season 10 Start Date: New season details confirmed by Blizzard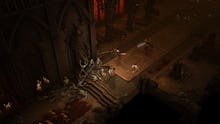 Last month, all we could do was speculate as to when Diablo 3's ninth in-game season would end and Diablo 3 season 10 would begin. Each season carries unique experiences with highly sought after treasure and loot, so players need to know how long they have left to get one season's rewards and when they can start getting the next season's rewards. Thankfully, we finally have an answer.
Blizzard confirms Diablo 3 season 10 start date
In a post on the official Diablo website, Blizzard confirmed the end date for season 9 and the start date for season 10. Season 9 will end on March 17 at 8:00 p.m. Eastern time. Two weeks later, season 10 will begin on March 31 at 8:00 p.m. Eastern.
The leaderboards will be wiped and season 9 rewards will be rolled over to your normal, nonseasonal characters. You'll get to start anew to get all of the unique rewards season 10 has to offer. 
Blizzard has not yet confirmed how long season 10 will last. We recommend getting in there and getting all of the rewards you need because time flies when you're having fun and the next Diablo 3 season will be over before you know it.
More Diablo 3 news and rumors
Mic has all the latest Diablo news, including updates on when we might be able to expect the Necromancer's appearance, Diablo 3's recent anniversary patch and PS4 patch notes.