It wasn't just New York. Fashion Weeks around the world were thinking about Donald Trump.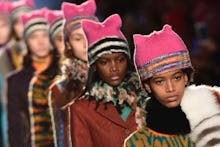 Before New York Fashion Week officially kicked off, we knew that it'd be political. Planned Parenthood was already planning on handing out pins to designers and audience members. Plus, American designers had already spoken out against the Trump administration and its policies. 
It made sense given the shocking presidential election followed by proposed sweeping changes in legislation that affect people that fashion both tries to employ and celebrate: women and immigrants. 
But as NYFW was wrapping up, a question arose: Would fashion designers around the world really care about American politics as much as, well, Americans? Would they care so much that they'd want to make it known on runways outside of the U.S.? The answer it turned out was, invariably, yes. 
Politics and Donald Trump, namely, were inescapable at fashion weeks around the world, from London to Milan to Paris. 
Here's exactly how.
London
Over in London, a place not only reeling from America's surprising presidential election but Brexit, too, politics found its way in almost immediately — and obviously. 
At the opening show at London Fashion Week, the Teatum Jones show, two disabled models walked the runway as Meryl Streep's stirring anti-Trump speech from the Golden Globes blared above. 
There was Kelly Knox, who was born without the lower half of her left arm.
And there was Jack Eyers, whose right leg was amputated when he was 16 years old. 
"It was that moment when the person asking to sit in the most respected seat in our country imitated a disabled reporter," Streep's voice was heard saying during the show. "Someone he outranked in privilege, power and the capacity to fight back. It kind of broke my heart when I saw it, and I still can't get it out of my head, because it wasn't in a movie. It was real life." 
In addition to Streep's speech, body-positive statements like "Your body is not an apology" and "We are perfect because of our imperfections" were also blared during the show. 
"Able and disabled-bodied people don't have different desires when it comes to fashion," Teatum Jones designer Cat Teatum told Telegraph. "They want great textiles, interesting shapes. Kelly and Jack are dressed in the collection like the other models. We've just had conversations with them about how to adapt their clothing. The overriding message is that we're all the same."
Then, at the Ashish show, Trump's beliefs made an appearance yet again, with models walking down the runway wearing sparkly blouses that read things like "More glitter less Twitter" and "Nasty Woman," obvious references to Trump's internet habits and the one-and-only Hillary Rodham Clinton. 
There was even a "Pussy grabs back" shirt, which became a rallying cry for women fighting against Trump and his "Grab them by the pussy" remarks and behaviors.
More subtle nods to politics also made their way into LFW. At the Bora Aksu show, several models dressed like modern-day suffragettes with broad-rimmed hats and frilly white dresses. 
The inspiration for the entire show, according to the designer, was a suffragette princess by the name of Sophia Duleep Singh, with the invitation evoking suffragettes and their signage. 
But rather than carrying signs, the models seemed to be wearing their beliefs on their clothing, with stockings and bows inscribed with words like "Hope," "Courage" and "Love." 
Milan 
In terms of just how devoted fashion really is to now speaking out about political hot topics, Milan was the test. Out of all the cities participating in fashion month, Milan is perhaps the least affected by the current political climate. New York City is, well, New York City. London is dealing with Brexit. Paris is facing a presidential election of its own in April. 
So if Milan got political, it would serve as a sign that the fashion world as a whole wasn't taking America's new president and his policies lightly. 
And, of course, Milan did get political. 
At the Versace show, one of the most hyped shows of the season, models walked the runway wearing beanies and shirt with words like "Unified" and "Love" across the front. 
Clearly, designer Donatella Versace, who came out in a shirt of her own that read "Equality," wanted to keep the political momentum going and did so in a rather blatant way. If the world already felt united, why would we need the reminder? 
Then, there was perhaps the crown jewel of blatant political statements during fashion month, with models at the Missoni show walking the runway in new and improved pink pussy hats, almost identical to those worn at women's marches across the country. 
"I wanted to have a regular show, but at the same time I thought that when I have a show my voice is louder, so I can use it for a good cause-to support the women march and movement, and for everybody who believes that we need to raise a voice for human rights," Missoni's creative director Angela Missoni told Reuters. 
"I feel the need to recognize that in a time of uncertainty there is a bond that can keep us strong and safe, that unites those that respect all human rights. Let's show the world that the fashion world is united and fearless," Missoni said at the end of her show. 
In addition to the hats, Missoni also showed sweater dresses with the Venus symbol, which is commonly associated with women and feminism. 
Obviously, even across continents, the Women's March on Washington made an impact. 
Paris 
And then there was Paris, a city facing the possibility of a political upheaval of its own with presidential elections in late-April and a candidate that mirrors Trump's conservatism and fondness for closed borders. 
At Paris' shows, the political messages were far less obvious, coming in the form of inspirations for shows. Such was the case at Kenzo, where the show was inspired the immigrant story of Kenzo Takada, the brand's founder, who immigrated from Japan to Paris. 
"We celebrate this idea of Japanese heritage [revisited], but in Paris," one of Kenzo's creative directors, Humberto Leon, told Women's Wear Daily. "There was that parallel he was always looking at in terms of these kimono details, mixed with almost French uniforms and that was always part of his vibe."
During that show, attendees feasted on food by Syrian refugee chef Mohammad El Khaldy. A model wearing a balaclava similar to those worn by Russia's Pussy Riot made an appearance, too. 
"Masks and balaclavas are a powerful symbol of anarchist and antifascist movements. It?s about anonymity," Kenzo's creative directors Leon and Carol Lim said on Instagram. "It?s not about your face, it?s about your idea, about your aesthetics. The mask is a powerful symbol of that." 
There were also far more subtle nods to politics, with models at the Rick Owens show wearing elaborate headdresses that, according to some, recalled the hijab, a garment that's come under scrutiny in France recently with burkinis banned in the southern part of the country this past summer. 
Then at the Dior show, all the models came out in black leather berets. Although you'd have to know a bit of fashion history to understand this, berets have long been worn in times of revolution. Just think of the Black Panthers and Che Guevera. 
So it really wasn't just New York City that felt like it had to react to the current political climate — it was the whole world.