12 of Buffy Summers' most important outfits — from wedding gowns to yummy sushi pajamas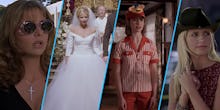 Buffy Summers, the iconic TV heroine played by Golden Globe-nominee Sarah Michelle Gellar, will be remembered for many things. She saved the world — a lot. She stole an anti-tank missile from the United States army and used it to blow up a powerful demon sent to wipe out the human race at the local mall — on a school night, no less. And she nabbed a 1430 SAT score, not bad.
But she's also unforgettable for another reason: as a fashion icon of the late '90s and early '00s. Just look at her enviable sunglass collection for proof:
Over the course of the Buffy the Vampire Slayer's 144 episodes that aired over seven years, from 1997 to 2003, Buffy experimented with ascots, scrunchies, animal print, beanies, "stylish yet affordable" boots and, so, so much leather. Fearless in the face of evil, she was also unafraid to go bold with her look. 
Here are 12 of her most quintessentially Buffy Summers get-ups in order by appearance.
1. "Prophecy Girl"
"Big hit with everybody," Buffy tells Xander in the final moments of Buffy's first season finale, referring to her silk white empire waist evening gown, gifted by Buffy's mother Joyce earlier in the episode. "We can't afford this," Buffy tells her mother when presented with the dress. "The way you've been eating... we can afford it." 
This dress is significant not only as the outfit Buffy wears when she dies (the first time), but as her first outstandingly fashion-with-a-capital-F moment (minus the shoes).
And, can we just say, accessorizing the dress with a leather jacket and a crossbow was absolutely the right decision.
2. "Becoming (Part 1)"
For one of the most significant moments in her life, one where she would be forced to come to grips with the fact that she would be forced to kill her lover, Buffy shows up wearing a seafoam blue trench — the unofficial uniform for teenage girls having to kill their undead boyfriends.
It's notable not just for the color and fit, but for providing this slow-mo action shot of Sarah Michelle Gellar running in it.
3. "Homecoming"
To her senior year homecoming, Buffy opts for a classic Oscar de la Renta-esque ruby red dress — both sophisticated and event appropriate. It shows a dramatic maturity in Buffy's aesthetic sensibility from just two years earlier.
Plus, even bloodied and tattered from battle, she still managed to look like a queen despite losing the crown.
4. "The Zeppo"
This is a good coat from afar, yes, but is it a good coat close up?
Can confirm:
5. "The Prom"
Carolyn Bessette-Kennedy who?
To a dream sequence wedding to Angel in the lead-up to his undramatic series exit, Buffy wore, appropriately, a fairytale wedding gown complete with three-quarter-length sleeves, designed by none other than Vera Wang.
If this dress could speak (which wouldn't be too unlikely a premise in the Buffy-verse), it would tell the story of its perfection made complete by the kiss the two share post "I do."
6. "Graduation Day (Part I)"
"Look at you, all dressed up in big sister's clothes," Faith tells Buffy in the big lead-up to a fight that would put Faith into a coma.
No outfit ever worn on the show can come close to this one. It makes sense that this is one of the looks chosen for a Buffy action figure, as it embodies everything that Buffy stands for: It's bold, it's powerful, it's feminine, it's tough. If Buffy outfits had the ability to win awards, this one would surely EGOT.
It's also durable as fuck:
7. "Pangs"
Let us take a moment to remember the one time Buffy wore a cowboy hat. Important reminder:
And here it is in close-up, as it deserves to be.
8. "Goodbye Iowa"
In the lead-up to battle, Buffy offered up this powerful speech: "I'm going to the crime scene to see what I can find out. You guys research the Polgara demon, I want to know where it is. When I find it I'm going to make him pay for taking that kid's life. I'll make him die in ways he can't even imagine."
Then: "That probably would have sounded more commanding if I wasn't wearing my yummy sushi pajamas."
9. "Restless"
Sarah Michelle Gellar as Buffy as a flapper in a college production of Death of a Salesman. What more do you need?
10. "Intervention"
This two-toned pink-on-pink look, complete with a bejeweled heart broach at the waist, symbolized a more adult-dressing vampire slayer. It's also a significant moment for the show, the first instance of Buffy showing some kind of affection for Spike.
And can we talk about the movement on the skirt? Perfection.
11. "Doublemeat Palace"
Though her stint flipping burgers at the Doublemeat Palace was brief on account of being attacked by a human lamprey (the worst), her uniform will forever live on. 
Though Buffy had many side jobs through the years (waitress, guidance counselor, construction worker), no career afforded her the opportunity to where a hat with a cow head on the front and chicken feathers on the back. And let's not forget the miniature chicken buttons expertly placed throughout.
12. "Chosen"
For Buffy's final getting-ready-for-battle speech, our beloved slayer chose a two-toned vertical integrated mullet top (business on top, party on the bottom, if you will) with a concave crescent hem — a far departure from our heroine's less sophisticated (but still iconic) style during the show's infancy.
Thank you for your many sartorial contributions, Ms. Summers. Saving the world may be your legacy, but fashion is how we'll always remember you.
Mic has ongoing Buffy the Vampire Slayer 20th anniversary coverage. Check out the main Buffy the Vampire Slayer hub here.