Donald Trump's new immigration executive order is still a Muslim ban and people are pissed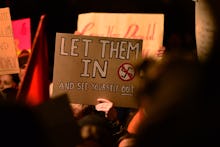 President Donald Trump's Muslim ban is back.
On Monday, Trump signed a new executive order suspending refugees from entering the United States for 120 days and cutting its refugee admissions from the Obama administration's annual cap of 110,000 to 50,000. 
The order, which won't take effect until March 16, also calls for a 90-day ban on any new visas from six majority-Muslim countries: Iran, Libya, Syria, Somalia, Sudan and Yemen. Iraq, included in the original order signed Jan. 27, is no longer on the list of banned nations. 
The revised order comes after federal courts handed the Trump administration several defeats. Despite the order's new language, however, Muslims and non-Muslims alike are speaking out. This order is still a Muslim ban and people are taking to Twitter to warn others about the consequences.