The 'Beauty and the Beast' controversy over the film's gay character continues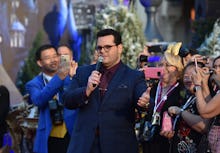 Beauty and the Beast, Disney's live-action remake of the 1991 animated film, has inspired controversy not only here at home, but overseas as well. In some countries,  government officials are reacting, personally and politically, to the film's inclusion of a gay character.
"Exclusively gay moment"
The movie is scheduled to be released March 17, but the film may never be seen in Russia, Malaysia and Henagar, Alabama, due to what the director has described as an "exclusively gay moment." 
The motion picture, which stars Emma Watson as Belle and Dan Stevens as the Beast, was directed by Bill Condon, who spoke of a moment in the film taking place involving the character of LeFou. Played by Josh Gad, LeFou is the devoted sidekick who adores the handsome villain Gaston, played by Luke Evans. 
Restricted in Russia
Russian officials were asked to pre-screen the film to evaluate if it violates the country's law against "gay propaganda." A Russian lawmaker, Vitaly Milonov, wrote to Culture Minister Vladimir Medinsky, asking him to gauge the film's content. 
"In this case, the public can not watch in silence the fact that the film distributors offer under the guise of children's fairy tales — an obvious, blatant, shameless propaganda of sin, perverted sexual relations," Milonov, who is an Orthodox Christian and conservative lawmaker for Russia's State Duma, wrote.
"I'm convinced that the main task of the state regarding children is the protection of childhood and youth from the dirt of the world, preserving children's purity, guard our children from the harmful and dangerous phenomena," Milonov said. "And in this case, our shared task is to not allow the release of this musical on the screen under any guise."
Children under the age of 16 in Russia are forbidden from seeing the film. 
Homosexuality was decriminalized in Russia in 1993, and it was removed from a list of psychiatric disorders in Russia in 1999. 
But in June 2013, Russian President Vladimir Putin signed into law a bill banning "propaganda of nontraditional sexual relations to minors," with regional bans on propaganda of homosexuality equating same-sex relations with pedophilia. Following its passage, homophobic hate crimes have been seen in Russia.
Postponed in Malaysia 
In Malaysia homosexuals can be caned and sentenced to up to 20 years in jail, and gay characters are only permitted to be shown onscreen in a negative or repenting light. Despite being approved by the film censorship board after the scene of interest was removed, Beauty and the Beast will not be shown in Malaysia in the near future. 
Abdul Halim Abdul Hamind, the film censorship board chairman said he did not know why the film has been pulled from screenings after the scene was removed, telling the Associated Press, "We have approved [the movie], but there is a minor cut involving a gay moment. It is only one short scene, but it is inappropriate because many children will be watching this movie." 
The Star Online, a Malaysian news site, reported that the release had been postponed due to an "internal review," per Disney's Malaysian office. 
Disney's history 
Disney has been viewed by many as having covertly promoted homosexual lifestyles in their films, two of the most recent examples being seen in a presumed same-sex couple in Finding Dory and speculation regarding Elsa's sexual preferences in Frozen. And the 1991 animated film Beauty and the Beast, which has been recognized as a metaphor for AIDS, has its own place in gay history. 
Petitions and online movements have encouraged the company to be more outspoken regarding the subject. Gay and Lesbian Alliance Against Defamation President and CEO Sarah Kate Ellis told Hollywood Reporter, "I think we have reached a point of 'enough is enough'... These portrayals help real LGBT youth to recognize that they aren't alone and validate their identity." 
Social media campaigns have urged Disney to communicate messages regarding sexuality, and Ellis added,"We have been pushing them for years at GLAAD but now social media and the community is pushing them on it. It's going to get harder and harder to ignore this drumbeat."
Mic has ongoing Beauty and the Beast coverage. Please follow our main Beauty and the Beast hub here.