'Ghost Recon Wildlands' developers defend controversial Bolivia drug cartel theme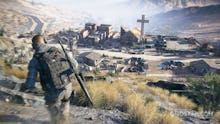 Starting this week, Playstation, Xbox and PC owners can explore a virtual version of Bolivia in Ghost Recon Wildlands, the latest open-world chaos simulator from Ubisoft. It's about special operatives trying to take down drug cartels in a fictional scenario where they've overrun the South American country and turned it into a national cocaine production plant. 
Unlike Ubisoft's Far Cry series, Wildlands takes place in a very real country and deals with a very real problem, albeit one that doesn't currently grip Bolivia in the real world quite as it does in the game. Even so, the Bolivian government is none too happy about the country's portrayal, and even threatened legal action against Ubisoft over the game. (Ubisoft's response: "We ... hope that the in-game world comes close to representing the country's beautiful topography.")
But the game's developers had a lot more to say about the ethics of concocting a drug war in a South American country to sell games, considering how much time and research went into Wildlands. We talked to narrative director Sam Strachman and lead gameplay designer Dominic Butler about how the team approached the setting and subject matter — and how it's responding to the controversy.
Ghost Recon Wildlands took a year of research
Why Bolivia? Strachman points to the country's natural beauty and its diverse topography, which contains around a dozen different ecosystems. 
"It's beautiful to look at as you explore the world, but it also creates a huge amount of variety in terms of gameplay experiences," Strachman said. "It's a lot different trying to capture someone in the mountains than in the big, open salt flats."
On the narrative side, Strachman said the team spent almost the first year doing nothing but research. They took a trip to Bolivia and met with locals, politicians, sociologists, botanists, geologists and any other experts who could help them create a believable and faithful in-game representation of the country.
Getting in the mindset of a special operative
Ghost Recon Wildlands is a game where players can get down to some real goofy open-world hijinks, but according to Butler, there is some truth to the way the game's mission design works. As special operatives, players are left to decide for themselves where to go and how to approach combat situations once they arrive. It's improvisational; you have to find weapons and upgrades on your own.
"They don't have command centers behind enemy lines," Butler said. "They're sent in as kind of the last option when nobody else can go in. They go in with very, very little support."
They took a trip to Bolivia and met with locals, politicians, sociologists, botanists, geologists and experts who could help them create a faithful in-game representation of the country.
According to Butler, this game is about putting the recon back into Ghost Recon. There's a limited, tutorial-like example of this in the game's very first mission. The first thing you do is find a lieutenant whom you can't kill because only he knows the location of a prisoner. You can sneak your way toward him and interrogate him, or you can go scorched-earth on his compound until he has no one left to defend him.
It turns out the prisoner is in a barn down the road. The place is heavily guarded, so instead of engaging head-on, I chose to crawl around the back through tall grass and try to quietly pick guys off one at a time. This was going great until I accidentally threw a grenade, which the enemy soldiers weren't especially pleased about. 
A short firefight later, I had to get the prisoner back to his friends. Luckily, there's a nearby helicopter that's practically begging for you to use it, but the game never explicitly tells you to do that. It's not obtuse to such a degree as games like Dark Souls, but there is an element of learning-by-doing.
Standing out against stiff competition
We're arguably in an golden age of open-world game design, with Horizon Zero Dawn and The Legend of Zelda: Breath of the Wild making waves this month already. As developers, how do you make a game that stands out?
Butler called that a "consistent nightmare" of game development, but clarified that development began five years ago after the release of Ghost Recon Future Soldier. The ideas aren't new, but the ability to implement them is.
"The team had an idea that they'd wanted to do for some time, but they'd been held back by technological restrictions," Butler said. "You can play the way you want with whatever tools you want, there are kind of no wrong answers, just experience the game in a continuous flow."
Strachman mentioned that this harkens back to the design of the first Tom Clancy games, but on a much grander scale.
"If you go back to the very first Ghost Recons, they were all about huge, open environments and they were all about freedom of choice," Strachman said. "We never want to cut you off from anything."
That dedication to the roots of Ghost Recon paid off, said Butler. "As gamers and fans of the franchise, this is the game we wanted to play," he said.
Responding to controversy
Finally, I couldn't let them go without asking about a Reuters report that the Bolivian government filed a formal complaint with the French embassy about the game's portrayal of the country. It's an evolving situation and perhaps a touchy subject, but Butler said that on the gameplay side of things, there was never any intent to make Bolivia look bad or dangerous.
"I don't want to say that it's just a game, but it's very clear that this is a work of fiction," Butler said. "At no point did we try to make a political statement."
"I don't want to say that it's just a game, but it's very clear that this is a work of fiction," Butler said. "At no point did we try to make a political statement."
Strachman echoed that sentiment, which has been adopted by Ubisoft as the company stance on the issue, per Reuters. According to Strachman, the one constant in titles bearing the Tom Clancy name is that they portray "what if?" scenarios rather than real problems in the world. That drug cartels are more realistic than something like the money plague in The Division doesn't change the developers' ethos.
"From the start, it was always meant to be a fictional game, it takes place in the near future," Strachman said. "Everything beyond that is kind of above our pay grade, I think."
More gaming news and updates
For more gaming news, check out the latest from Mic. Here's the latest on Diablo season 10, new Pokémon Go rankings, how to connect your Switch to Ethernet without the dock and everything there is to do in Zelda: Breath of the Wild's first level.