WWE Fastlane 2017 Results: Watch a better, alternate ending in 'WWE 2K17'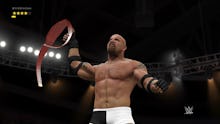 WWE Fastlane 2017 ended with an exciting — but controversial — conclusion to the main event. If you're like me and you weren't a fan of how things went down, don't worry. I've got an alternate ending video, created in WWE 2K17, that shows what could have been.
WWE Fastlane 2017 Results: What happened?
In case you missed it, Goldberg defeated Kevin Owens to become the Universal Champion. No surprise there. He's been tabbed for a title run ever since he came back to the WWE in 2016. However, the way he won the match might not sit well with a lot of WWE fans.
Goldberg defeated Brock Lesnar at Survivor Series in a match that lasted just 84 seconds. It was a shocking — but entertaining — swerve.
The WWE went to the well with that theme once too often on Sunday at Fastlane. In another squash match, Goldberg defeated Owens in even less time, thanks in part to a distraction from Owens' newest rival and former best friend, Chris Jericho. A spear and a fackhammer from Goldberg sent WWE fans home quickly after another abrupt match.
WWE Fastlane 2017 Results: Alternate ending in WWE 2K17
There's not much audiences can do about WWE storylines; how the action plays out is the writer's choice. Sometimes fans will like the booking decisions, and other times they will not.
But because this was indeed a time where I didn't like the outcome, I decided to author my own climax to the event. In the video below, I created an alternate ending. Check it out:
Obviously, Goldberg was going to win this match. However, in the video simulation, Owens doesn't get disrespected, and the feature attraction lasts a little longer than it did in real life.
Jericho still comes to the ring to distract Owens, but he's thwarted by Brock Lesnar, who wants to dish out pain, and he wants to make sure Goldberg feels his presence. He wants Goldberg to win fair and square so that he can get his revenge at WrestleMania 33 in April.
This is a much better payoff and ending, and it also plants a seed for Monday Night Raw. Why would Lesnar help Goldberg? What will happen with Owens and Jericho?
As it was, there were no cliffhangers, only a predictable series of events. That's not best for business.
More sports gaming news and updates
Are you a sports gamer? Check out more content from Mic, including news on Tips on leveling up your NBA 2K17 MyPlayer, Playing QB in Madden 17 and the latest information on MLB The Show 17.