Longtime US tech workers are suddenly fearful under new H-1B visa rules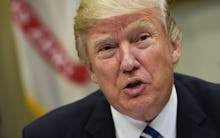 On Friday, the United States Citizenship and Immigration Services announced it would temporarily suspend premium processing for all H-1B petitions beginning April 3 — meaning individuals no longer have the option to fast-track the approval process. 
According to immigration attorneys, this ban is creating another level of uncertainty, anxiety and fear in an already unpredictable process. Longtime U.S. tech workers now fear they won't be able to reenter the country if they travel abroad.
The H-1B issue, which affects many technology companies, has drawn criticism from some CEOs and leaders in the tech community. Mark Cuban, the entrepreneur, Shark Tank investor and owner of the Dallas Mavericks, told Mic, "I believe we need the smartest employees we can get, regardless of where they reside. We want our companies to be as competitive as possible and it takes the best to be the best."
According to immigration attorney Sam Adair, USCIS is "throwing a wrench into the mechanisms of the H-1B program here, and ... I just don't see an advantage to anybody in doing that." He added that the suspension "just increases frustration and worry among people who are trying to get something put in place for their work authorization."
This isn't the first time the USCIS has suspended premium processing for these types of visas. A similar suspension was carried out under the Obama administration in May 2015. But the timing of this ban, about a month before attorneys prepare for filings, contributes to the growing dread among immigrants in a political climate showing no mercy for their circumstances.
A culture of fear
The premium processing option allows applicants to pay $1,225 to expedite a process that can regularly take upwards of eight months to adjudicate and instead learn about their status in 15 days. The USCIS wrote in a post that the suspension was implemented in order to reduce the overall processing time for all H-1B applications due to a backlog.
But, as Adair noted, the suspension has a more significant impact on people who are already in the United States. For example, if someone on an H-1B visa wants to change employers, their new employer has to file an H-1B application for them. They cannot change employers until the application is received and approved by the USCIS. Tacking on up to six months to wait for approval forces many people to stay where they are, considering most employers won't be willing to wait that long for an employee to make the move. And most H-1B visa workers aren't willing to take a chance and leave without knowledge of approval, Adair said, because if their application isn't approved they will lose their status.
Ryan (name has been changed), 40, works at a tech startup in New York City. He moved here from India in 1999 and his H-1B visa expires at the end of the year. He spoke to Mic on the condition of anonymity because he had read about a resident who spoke out and then "they went after that person" — likely DREAMer Daniela Vargas, 22, who was arrested Wednesday. 
Ryan was planning to visit his parents back in India and was dependent on premium processing to ensure his visa was approved in time so he could travel freely — he has two kids, and they have a small window to travel during their summer vacation.
"Now we are not certain whether we will be able to go or not."
Ryan said the current administration has caused "a lot of uncertainty."
"We read all the news and what is going on with immigration," he said. "Take my example, I have been in this country working on H-1B for 17 years. I have my green card in process but it's taking forever. We own a house. My kids were born here. They go to school. My daughter is going to perform next year at Carnegie Hall in New York City. ... We don't know what's going to happen with our house. How much time we will have to wrap up everything and go back. There are so many things when you read these news and we don't know what's going to happen. At this moment we are basically doing a backup plan: if this happens, what we will do, what happens to kids."
Douglas M. Lightman, another immigration attorney, said the suspension is even causing concern among clients who weren't planning to file premium processing, because they're unsure how to interpret it.
"They are concerned that it's the first of more to come — surprises or last-minute changes," Lightman said.
He said there is truth to USCIS's need to cut down on the backlog, but the timing, "given the political climate and the leaked order and the proposed bill, ... raises concerns and probably makes people feel like there is a political element to it."
Kate Goss, a managing director at Pride Capital who has a lot of exposure to H-1B visas in her line of work, said she attributes the large influx of H-1B applications to the USCIS to a "high degree of anxiety" due to the "overall tenor of the new administration and the way they are going to be handling immigrants and non-citizens workers."
Goss, who has been working in IT staffing for almost 20 years, said in the two weeks after the inauguration, her company was visited twice by USCIS to validate details about H-1Bs and determine the legitimacy of the business. 
"That's never happened to me in the last 19 years of my career," Goss said. "So that was pretty surprising."
Unintended consequences
Trump's campaign was built on the premise of bringing jobs back, and many of his supporters believed foreign workers were taking jobs from natural citizens. Lightman said his concern is that the current administration might make the H-1B visa program "more burdensome and more restrictive and more limiting" for political motives regardless of the fact that the economical repercussions would be negative.
In Lightman's opinion, the belief that certain work visa programs like the H-1B visa take jobs away from U.S. workers is a "false idea."
"The administration seeks to deliver to their base in a sense," he said. "Regardless of whether or not certain goals or developments desired by the base are wrong from a holistic point of view. I think they want to deliver to the people that got them in power and I think that a large percentage of those people are probably receptive to the idea that certain work visa programs take jobs away from U.S. workers."