Sean Lennon releases the song he "had to record" following Carrie Fisher's death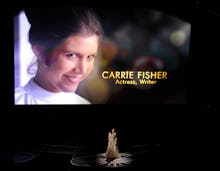 Carrie Fisher, who died in December, was good friends with Sean Ono Lennon, the musician son of Yoko Ono and late John Lennon.
To honor Fisher, Lennon uploaded a song he had written some time ago with the actress, and released a statement about his relationship to her. Titled "Bird Song," the dreamy song features Lennon with Willow Smith taking backing vocals.
Lennon's statement reads as follows:
Carrie and I wrote this song years ago. When she died I just felt I had to record it. This is only a demo unmixed, we only had a few hours to record it. But the lyrics she wrote with me I think are marvelous. Carrie and I used to stay up til dawn chatting and pontificating about life. They were my best moments. Anyway... we wrote a song about staying up too late and hearing the birds sing. Willow Smith is a prodigal angel and was generous enough to lend her golden voice to this little tune.
Fisher and Lennon's friendship was a private one, but Lennon opened up about it in an emotional Instagram post following her death.
I can honestly say that Carrie was one of the best and closest friends I've ever had in my life. She was the smartest, funniest, kindest, and most generous person I have ever known. My heart is completely and permanently broken. This is the kind of loss that you never recover from. I know because I still miss my dad every single day. Carrie, I love you so much. I can't imagine living my life without you there to fix it. You meant more to me than just friend or family, I feel that you were part of me, and you always will be. I can never thank you enough for all those magical evenings. Thank you Debbie [Reynolds] and Billie [Lourd] for sharing your prodigal princess with me. My thoughts are with you now and forever. R.I.P. Carrie Fisher.
You can listen to "Bird Song" on SoundCloud here.
Mic has ongoing music coverage. Please follow our main music hub here.