Report: Kansas shooter Adam Purinton asked Indian victims if their "status was legal"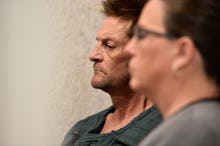 Adam Purinton, 51, asked two Indian immigrants if their "status was legal" before he shot them at a Kansas bar Feb. 22, according to court documents obtained Monday by BuzzFeed News.
The report echoes previous witness accounts of the shooting. One survivor, Alok Madasani, reportedly told investigators that Purinton started harassing him and his friend, Srinivas Kuchibhotla, while they were out for a drink at Austin's Bar and Grill in Olathe.
"I wish it was a dream," Madasani said at a Feb. 26 vigil for Kuchibhotla, who died from his gunshot wounds. "What happened that night was a senseless crime and that took away my best friend."
Purinton allegedly asked Kuchibhotla and Madasani about their immigration status and told them to "get out of my country" before leaving the bar. He reportedly returned 30 minutes later with a handgun and shot them both, killing Kuchibhotla.
"It wasn't right," Ian Grillot — a white bystander who Purinton also shot when he tried to intervene — told the Kansas City Star.
Each new detail that emerges about the crime heightens its troubling political implications. As President Donald Trump continues to enshrine xenophobia into law with his executive orders barring Muslim and undocumented immigration, violence against immigrants, Muslims and people thought to be either persists across the U.S.
On Friday, a Sikh man named Deep Rai was shot and injured near Seattle by a man who allegedly shouted, "Go back to your own country." In November, anti-Muslim assaults reached their highest level since right after 9/11, according to Pew Research Center. The recent spikes have been tied to Trump's rhetoric, which has demonized immigrants throughout his campaign and presidency.
Purinton, meanwhile, has been charged with first-degree murder and attempted murder for his alleged crimes.