Virginia public school system to close after 300 staffers take off for Women's Strike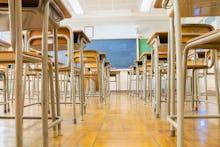 The Women's Strike is already working its intended effect in Alexandria, Virginia, where public schools will close on March 8 after 300 employees requested the day off.
The Alexandria City Public Schools system announced Monday that March 8 would serve as a "teacher work day for ACPS staff," WTTG reported. The ACPS already had a teacher work day scheduled for March 10, which will still be observed.
A statement from ACPS noted that the "unusually high number of requests" for time off on Wednesday "may be attributed to the observance of International Women's Day," WTTG reported. There are a number of actions planned for March 8, among them the International Women's Strike and A Day Without a Woman, both of which call for women to abstain from all forms of labor in protest of economic inequality.
"This is not a decision that was made lightly," the ACPS statement reads. "We have been closely monitoring requests for leave on March 8, including communicating with school leaders and our education association."
"The decision is based solely on our ability to provide sufficient staff to cover all our classrooms, and the impact of high staff absenteeism on student safety and delivery of instruction," it continued.
According to WTTG, the ACPS also apologized in advance for any inconvenience the closure posed parents.
If the city adheres to A Day Without a Woman's protocol, it should be up to dads to figure out what to do with children out of school on Wednesday. As outlined on the event's FAQ page, organizers are calling on men to "lean into care work and housework" so that women can take part in local protests. 
Have fun, dads.