Fun fact: This 'Buffy the Vampire Slayer' cast member is Beyoncé's step sister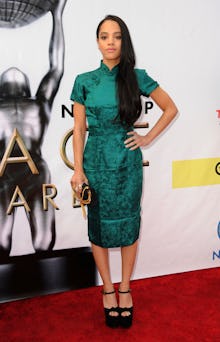 Yes, you read that headline correctly. Beyoncé is somehow connected to the Buffy the Vampire Slayer universe. 
As the 20th anniversary of the beloved supernatural series approaches, we're looking back on the cast, storylines and more that helped make the show such a cultural phenomenon. That includes Beyoncé's half sister, actress Bianca Lawson.
Lawson and Beyoncé became step sisters after Lawson's father, actor Richard Lawson, married Beyoncé's mother, Tina Knowles, in April 2015. The women were featured together in multiple photographs from the day of the nuptials.
Who is Bianca Lawson?
Lawson made a name for herself in Hollywood before gaining a celebrity sibling. Besides starring on Buffy the Vampire Slayer as slayer Kendra Young, she also had regular roles on Saved by the Bell: The New Class; Sister, Sister; Goode Behavior; Dawson's Creek; The Secret Life of the American Teenager; Pretty Little Liars; The Vampire Diaries; Teen Wolf; and Witches of East End. She most recently starred on OWN's Queen Sugar.
Who is Kendra Young?
Buffy the Vampire Slayer introduces Kendra in season two in 1997. She is a teenager from Jamaica who became the slayer after Buffy (briefly) died at the hands of the Master in season one. Of course, everyone who has listened to the opening monologue of the series knows that there should only be one slayer — so how did Kendra get thrown into the mix?
Despite Xander using CPR to bring Buffy back to life, her death still triggered the activation of a new slayer. That's how Kendra ended up in Sunnydale. 
While Buffy and Kendra were both slayers, they had very different upbringings. Buffy was raised by her mother and met her Watcher while in high school. Kendra, on the other hand, was raised by her Watcher since she was a child. She was trained her entire life for the role as slayer, and was taught that friends and other relationships were simply a distraction from her calling. Buffy saw Kendra as a way out of the slayer lifestyle, and was hopeful that she would be able to live a normal life with the addition of a second slayer. Unfortunately, Kendra didn't last long in the Hellmouth. She was killed at the hands of vampire Drusilla, who user her sharp nails to cut Kendra's throat.
Although she wasn't in Sunnydale for long, her death still weighed heavily on Buffy and the rest of the Scooby gang. Buffy even reveals in the season four premiere that she keeps Kendra's favorite stake, nicknamed Mr. Pointy, as a security blanket. But that's not the only impact that Kendra had on the series. Her death also introduced another slayer to the Buffyverse — Faith.
Mic has ongoing Buff the Vampire Slayer 20th anniversary coverage. Check out the main Buffy the Vampire Slayer hub here.