'The Bachelor' 2017 recap: So what exactly happened in Nick and Raven's fantasy suite?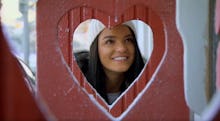 I think we can all agree this season of The Bachelor has been a bit of a snooze fest, with Nick Viall spending the majority of each episode resting his head on his fist and sporadically mumbling "okay." But if there's one thing I do care about this season — one burning question that kept me awake at night and bound me to my television this week — it's this: 
Did Raven have an orgasm in the fantasy suite, or what?
The backstory
Raven, one of Nick's final three ladies, made a shocking confession last week during the couple's pre-sex dinner date. She'd had sex with her ex-boyfriend, she said, but she'd never had an orgasm before. The pressure was on for Nick and his chunky turtleneck sweater.
Thankfully, the Bachelor wastes no time getting us the Raven verdict. And at the rose ceremony, Nick selects his final two women: Raven and Vanessa. Rachel is sent home, but don't feel bad for her — she's the next Bachelorette. 
Let's get down to business
We pick up the morning after Nick and Raven's night in the fantasy suite, and ABC clearly knows what viewers are thinking. 
"To be alone physically with him was just so nice and relaxing," Raven gushes. "Nice" and "relaxing," you say? Tell us more!
"I will say this: Nick is really good at what he does," Raven continues. "I'm pretty satisfied today." Then she skips through the streets of Finland. Nick is good at sex, apparently — at least, so says a woman who's not accustomed to coming. 
Next up is Rachel! 
Nick presumably slaps on some deodorant and heads to meet her for a cross-country skiing date. Rachel has never heard of cross-country skiing and can barely stay upright, but that's okay. "We're just trying out new adventures together, and there's something beautiful and romantic about that," she says.
They go inside and nestle together in a distinctly Finnish-looking cabin. There, Rachel confesses to being scared of how strong her feelings are. Nick suggests they can be scared together. Sounds chill!
Later on, they go for drinks in some other distinctly Finnish-looking cabin. Rachel is all in her head, still stressed about the scared feelings she talked about earlier. She's also putting pressure on herself to tell Nick how much she likes him. Yikes — this is getting tense. 
"Have the strength to be a bit of a mess sometimes," Nick says sagely.
Then Rachel spits out the truth: She's falling in love with Nick! Whoa. This is a rollercoaster ride. They make out for a bit, and then duh, she accepts the fantasy suite card.
The morning after, the couple seems cuddly and happy. Nick makes her eggs! The night was "so perfect," Rachel says. "At this point, I am all in. I feel confident." But hold up — we know Rachel is the next Bachelorette. So how long can she possibly last? 
Next up, it's Vanessa's turn
Her hometown date was a little serious, so Nick hopes they can have some fun. But they'll still have to set aside a few minutes (read: the whole damn date) to talk about her overly "traditional" family.
Vanessa and Nick meet at a Finnish spa in the snowy woods. Their relationship has always been "hot and steamy," Nick says (ew), so it's time to change into swimsuits and hop into a deathly cold ice bath. "If we can do this together, we can do anything," Nick says, because marriage is exactly like teetering on the edge of hypothermia. 
Somehow, they jump into the ice bath — like, a bunch of times. I'm Canadian, and I still don't know how they do it. It looks horrible. 
Speaking of horrible, Nick and Vanessa head to the hot tub for a strange, awkward conversation. The ice bath fun is over — it's time to talk about their seemingly irreconcilable family differences. Unlike Nick's upbringing, Vanessa's family is steeped in tradition, like their weekly Sunday lunch in Montreal. 
I don't know if it's the editing, but the whole thing comes off as creepy. Nick does a lot of his signature head-tilts-down-eyes-look-up move while whispering that they're more alike than Vanessa may think. 
That evening, Nick and Vanessa curl up in a sexy yurt and talk more about their differences. Somehow, this seems to be the first time they've talked seriously about which country they'll live in. Nick is a proud American; Vanessa is a proud Canadian. Er, this could be a problem, you guys!
Many on Twitter — including former Bachelor contestant Ashley Spivey — questioned how Nick could possibly turn down the chance to move to Canada.
"I'm very aware that it takes more than love for a relationship to work," Vanessa says of their differences. But she wants to fight for their love, difficult as it may be, because she really loves Nick. 
"I think my relationship with Vanessa has the potential to have more conflict," Nick says — but if they can figure out their differences, they have the chance at something great. 
The couple heads off to "figure out their differences" in the fantasy suite, if ya know what I mean. 
The next morning, Nick and Vanessa wake up under a fur blanket in front of a fire. Um, is Nick Gaston from Beauty and the Beast? Well, their night seems to have gone nicely.
Finally, it's time for the rose ceremony. Nick is in tears as he tells the women about the hard choice he had to make. 
Raven gets picked first, followed by Vanessa. Rachel is sent home, but that's okay: She's about to date 30 hot guys at once. 
She also never has to see Nick's chunky turtleneck again.
Mic has ongoing Bachelorette coverage. Check out our main Bachelorette hub here.