Meet the youngest contestant to ever qualify for the Scripps National Spelling Bee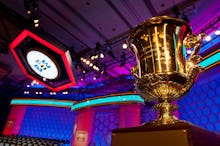 Meet Edith Fuller, officially the best speller in Northeast Oklahoma. She's heading to Washington, D.C., in May for a chance to compete against kids from all over the country in this year's Scripps National Spelling Bee — and she's only 5 years old.
Edith beat out more than 50 young spellers at the 2017 Scripps Green Country Regional Spelling Bee on Saturday, earning her a spot in the national competition and making her the youngest contestant ever to qualify for the national bee.
Edith, who is home-schooled, won Saturday's regional bee on the word "jnana," Tulsa World reported Monday. Over the course of the competition, she also correctly spelled "odori," "colloquial" and "sevruga."
Her mother, Annie Fuller, told Tulsa World that the family first discovered Either's gift with letters last year, when she spelled "restaurant" without having been taught the word, Fuller said.
"It's fun to share her with everyone," Fuller told Tulsa World. "I knew she'd be a novelty, so I'm proud she held her own."
The 5-year-old will compete against contestants as old as 15 at the National Spelling Bee, ABC News reported. Last year's co-winners, Jairam Hathwar of New York and Nihar Janga of Texas, were 13 and 11, respectively. At least two 6-year-olds have qualified in past years, a Scripps spokeswoman told ABC News.
Theoretically, there's still time for an even younger contestant to make it in this year. The competition has no minimum age, and regional qualifying bees are still going on around the country.