Nintendo Switch dead-pixel defect ruining Switch screens — here's Nintendo's sad response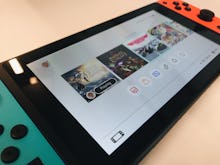 Yikes. Some Nintendo Switch buyers are reporting their just-purchased units are plagued by dead pixels — a dot on the screen that's unable to change color to match what's displayed, leaving a very noticeable blemish. Not every Nintendo Switch display is afflicted by the single-colored speck. Unfortunately, if this is happening to you, there's not much you can do — but there may be hope. Read on.
Nintendo Switch dead-pixel defect: Dead pixels affect some Switch owners
Redditor Rarcoon posted a screenshot of his Switch display on the /r/NintendoSwitch subreddit Saturday, pointing out a bright-red pixel that refused to go away.
This one, posted by Arkanic, is particularly bad. See that purple line near the top? The user is experiencing an entire row of dead pixels. Arkanic posted an Imgur album of screenshots displaying the issue.
Nintendo Switch dead-pixel defect: Nintendo's response
On its support site, Nintendo has a message for anyone concerned about the display defect, basically saying "sorry, you're out of luck." 
"Small numbers of stuck or dead pixels are a characteristic of LCD screens," the company says. "These are normal and should not be considered a defect." 
Nintendo's line on dead pixels feels much more apathetic than its 2004 policy when the Nintendo DS arrived, vowing to inspect and correct any DS dead pixels as long as the system was still under warranty. Hopefully, we'll get a better response soon if this becomes a more widespread issue.
Nintendo Switch dead-pixel defect: Can you fix it?
Unless you're a Switch owner with a time machine, odds are you'll have to put up with Nintendo's new attitude toward lifeless pixels — at least until it issues some sort of return policy or trade-in program. Let's hope Nintendo channels its 2004 response and starts to fix the problem.
Check out more Nintendo Switch news and coverage
Looking for more Nintendo Switch news? Learn why the Switch cartridges taste so bad. Check out our comparison photos sizing up the Switch to the Wii U GamePad (part one and part two), find out how to make use of ethernet without the dock and the best way to get alerts when new stock arrives.