U.S. deploys first pieces of THAAD, the missile defense system in South Korea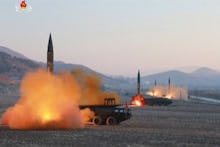 The United States has begun assembling its missile defense system in South Korea, following yesterday's news that North Korea deployed four more missiles Monday morning.
The Terminal High Altitude Area Defense system uses kinetic energy to destroy an incoming missile — or, in other words, launches another missile to eradicate an incoming one.
According to CNN, China is less than thrilled with the deployment of THAAD, and many officials worry its radar system could be used to spy on China. Others fear THAAD could act against the interests of Chinese military forces should there be an attack on the country.
South Koreans themselves also have concerns about THAAD:  In August, some 900 South Koreans shaved their heads following the country's July announcement that the U.S. would be deploying THAAD in the county of Seongj. And just last month a few dozen protesters staged a rally outside Seoul, South Korea's defense ministry after officials signed a "formal swap deal" to obtain the missile defense system. 
Nonetheless, correspondence among President Donald Trump, Japanese Prime Minister Shinz? Abe and South Korean acting President Hwang Kyo-Ahn show they aren't wavering in their plans to move forward with THAAD.
According to a White House press release, Trump emphasized the U.S.' "ironclad commitment to stand with Japan and South Korea in the face of the serious threat posed by North Korea."
Trump and his administration went on to pledge the U.S. would use the "full range" of its military capabilities to "deter and defend against North Korea."
The statement finishes, "President Trump agreed with Prime Minister Abe and acting President Hwang to continue close bilateral and trilateral cooperation to demonstrate to North Korea that there are very dire consequences for its provocative and threatening actions."