Are the iHeartRadio Awards rigged? Zayn honored in fake category to make up for error.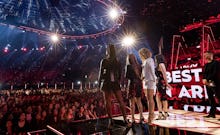 First it was #EnvelopeGate, now #iHeartWasRigged.
Sunday at the iHeartRadio Music Awards, Zayn Malik won best music video for "Pillowtalk," at least that's what Billboard, E! News and all of mainstream culture's big players reported. Zayn was in France for fashion week and unfortunately couldn't attend, but posted a video of an acceptance speech to his official Snapchat and Twitter, later re-posted to the iHeartRadio Snapchat account.
In the video, he doesn't say specifically what award he won, which made it very easy when the award show seemingly realized later that Zayn didn't actually win best music video. Fifth Harmony's "Work From Home," featuring Ty Dolla $ign actually earned more votes. The award show made a new category for Zayn's speech to apply to: best solo breakout artist.
Zayn's win in this other category allowed Fifth Harmony to claim best music video for their own and add it to the list of other awards they won that night — including best fan army and best cover.
The sudden appearance of the new best solo breakout category seemed to blindside its nominees as well. "Apparently I was nominated for an iHeartRadio award last night and no one knew including me!" singer Olivia O'Brien tweeted late Monday. "Still cool i guess?"
Other fans, mainly Zayn disciples, didn't look as kindly on this odd development and its subsequent cover up. They shared their annoyance and ire using the hashtag #iHeartWasRigged, encouraging others to share in order to get the hashtag to trend.
Award show screw ups seem to be really in fashion after the Oscars earned all that press following their La La Land and Moonlight snafu. For the conspiracy minded, iHeartRadio's bait and switch is simply the next stage of development of this technique. Everyone won really: iHeart got more press, Fifth Harmony got more awards, O'Brien got her name into the nominees pool. The only ones who really lost are the fans who took the show's word as bond and wanted to see their hunk take home all the big awards.
March 7, 2017, 10:25 a.m.: iHeartRadio tweeted about the issue Monday morning, apologizing to fans for the confusion.
Mic has ongoing music coverage. Follow our main music hub here.