'Iron Fist' star Finn Jones tweets about representation, which immediately backfires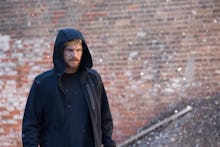 The latest Marvel series from Netflix, Iron Fist, has yet to be released, but its star is already making headlines for some unfortunately tone-deaf tweets. The titular hero and its actor, Game of Thrones alum Finn Jones, took to Twitter over the weekend to retweet a speech from Rogue One actor Riz Ahmed on the importance of representation in film. Jones added "representation is important." 
Now, on surface level, this isn't a bad thing — Ahmed's speech was powerful and important in and of itself, coming from a rising Hollywood star. The issue is the fact that it's coming from Jones. 
The actor is taking on the role of Iron Fist, a whitewashed superhero that came during the martial arts boom of the 1970s. The fact that the lead role was given to Jones, a white man, wasn't lost on Twitter when the casting was first announced — and once again, Twitter was there to point out the hypocrisy of Jones' tweet on representation. 
It led to Jones defending his show over Twitter, at one point calling Iron Fist "one of the most diverse shows out of the three," presumably referencing fellow Netflix-Marvel series Luke Cage and Jessica Jones. But suffice it to say, it wasn't the best look for a white actor in a controversial role lecturing other people over Twitter about race and representation. 
Here's a sampling of Jones' follow-up tweets. 
Jones eventually deleted his Twitter account — though it didn't last long before it was reactivated. As Jones revealed in a statement to Deadline, he wanted to remove himself from Twitter to focus on filming for The Defenders: Marvel's team-up show that will feature Iron Fist, Jessica Jones, Luke Cage and Daredevil. The Defenders comes out later this year. 
After posting I was inundated by people accusing me of not being allowed to share [Ahmed's] voice based on an assumption that our show is going to play into the problems of racial inequality on screen. I engaged politely, diplomatically and attempted to bridge the divide. I'm currently in the middle of filming and I need to stay focused on bringing to life this character without judgment, so I decided to remove myself from Twitter for the time being.
Jones has since reactivated his Twitter, without tweeting anything aside from a retweet to a story of his statement provided to Deadline. But in the future, perhaps Jones should think before he tweets. 
Iron Fist premieres March 17 on Netflix.  
Mic has ongoing Iron Fist coverage. You can follow our main Iron Fist hub here.