Emma Watson wants you to know that it's OK to love your pubic hair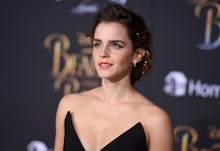 Emma Watson must be tired. Since promoting her new film, the live-action Beauty and the Beast, she's had to defend her right to bare her breasts for a photoshoot, defend her feminism and attempt to defend her previous comments on Beyoncé. 
Now, in a new column for Into the Gloss in which she recounts her regular beauty regimens, Watson is speaking out about her right to do whatever she wants with not just her pubic hair, but her body hair in general. 
"It's funny — I was just talking to my friend before this about how in the Instagram era it's so easy to edit your life so that it looks perfect," Watson said. "But I bleach my top lip and tweeze my eyebrows and you'd never get to see that, even though it's a part of my routine. There's still so much shame around the things you do to get ready while you've got a towel wrapped around your head. It's important to me not to edit that out."
According to Watson, she's been bleaching her top lip since she was 9 years old. And then, she gets to what she does with her pubic hair. 
"I use Fur Oil," Watson said. "I'll use that anywhere from the ends of my hair to my eyebrows to my pubic hair. It's an amazing all-purpose product." 
Fur Oil is a conditioning oil made specially for pubic hair, with natural ingredients meant to soften the hair. So, not only is Watson super OK with having pubic hair, something that's become a regular topic of conversation between women online, but she's OK with treating it well too. 
Watson's comments come in a time when, indeed, more celebrity women are talking about the realities they face as normal, hairy human beings, from Adele talking about never having a man tell her to shave her legs to Chrissy Teigen publicly complaining about having to shave hers for the red carpet. 
After years of famous women keeping absolutely mum about what they do with their own body hair — and what they think about it — this is quite refreshing.