Trump falsely accuses Obama of releasing 122 recidivist Guantanamo Bay prisoners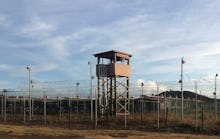 President Donald Trump hopped on Twitter Tuesday morning to incorrectly blame his predecessor, Barack Obama, for the release of 122 former Guantanamo Bay detainees U.S. intelligence agencies claim have now returned to terrorism. 
"122 vicious prisoners, released by the Obama Administration from Gitmo, have returned to the battlefield," the tweet said. "Just another terrible decision!" 
The tweet, which Trump shared around 7 a.m., came just after a segment that aired on Fox News' Fox & Friends correctly claiming that 122 prisoners released from Guantanamo Bay have re-engaged in terrorist activities. 
The clip, however, failed to mention that 113 of those prisoners had been released during the tenure of former President George W. Bush. Only nine of them had been freed during the Obama years.
On Tuesday, reports surfaced that an airstrike authorized by the Trump administration on an al-Qaeda base in Yemen had killed a former Guantanamo detainee, Yasir al Silmi, who had been released from the prison by Obama in 2009. 
It's unclear whether or not that report led Trump to mistakenly assume that Obama was responsible for the release of all of the recidivists formerly held at Guantanamo Bay.
While Obama vowed on the campaign trail to close the prison at Guantanamo Bay — a frequent site of torture and human rights abuses committed by U.S. military operatives — Trump has repeatedly promised to keep its doors open, and to "load it up" with "bad dudes," Fox News reported.