A new campaign proves that not only is makeup OK for men, it's OK for anyone of any gender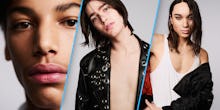 Men and makeup has been one of the hottest topics in the beauty world. In the past few months, some of the largest beauty brands in the world, from CoverGirl to Maybelline to L'Oreal to Rimmel, have stepped up and started to include men in their makeup campaigns, with some companies even naming them ambassadors. 
But now that more and more people are understanding that it's absolutely OK for men to embrace makeup, where can the conversation go from here? 
Well, according to a new campaign from Milk Makeup, the conversation can go to this: Anyone, regardless of how they identify or don't identify along the gender spectrum, is free to experiment with makeup, too. 
In a campaign released on Monday titled "Blur the Lines," Milk Makeup and men's beauty website Very Good Light teamed up to break open the gender conversation, introducing a slew of young people talking about not only gender and their own identities, but just how complex that can get. 
One by one, the models introduce themselves via how they identify.
"In terms of gender I identify as he, man, him or queen," Marcelo Gutierrez says. 
"If we're putting a name on it, I feel more like a boy growing into a man. It's too complex to be put into a box," Eric Stone Carson says. 
"He and she are literally two and three letters, like very small words. And they only have so much power as you give them," Avie Acosta says. 
Other people included in the ad include Dagsen Love, Rayne Nadurata and Eddy LeRoy. The only common denominator among them is that they all love makeup and, more specifically, the smartly named "Blur Stick" this video was produced to advertise. 
"[Beauty is] years of placing people in rigid boxes that have created unfair gender roles for both women and men," Very Good Light founder David Yi told Yahoo. "I believe that beauty should be about self-expression, empowerment and finding your best light, no matter who you are. Genderless beauty, therefore, is all about being your authentic self. Using products that enhance who you are, and finding that inner confidence from the inside out." 
Clearly here, the message is that no matter how any of these people identify — whether it be he/him or alien or queen — or how you identify, makeup is for everyone to use to express themselves however they like. 
You can watch the entire Milk Makeup campaign below: