US Soccer has new rules about what players should do during the national anthem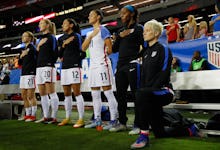 The country's national soccer league is putting a stop to the widespread protest sparked by San Francisco 49ers quarterback Colin Kaepernick back in August.
In response to 2016's spate of protests by athletes, U.S. Soccer rolled out new behavioral requirements for its players at Saturday's annual general meeting — namely, that athletes can't sit or take a knee during the national anthem.
According to a tweet from Fox Soccer analyst and host Stuart Holden, the new policy states that all members of the national soccer team must "stand respectfully during the playing of national anthems at any event in which the Federation is represented."
Kaepernick was the first to sit down or take a knee during the national anthem at an August game, a show of protest against systematic racism and police brutality that caught on among major league, collegiate and high school athletes alike.
U.S. Women's Soccer player Megan Rapinoe made a show of solidarity with Kaepernick during two September games.
"It was a little nod to Kaepernick and everything that he's standing for right now," Rapinoe told American Soccer Now at the time. "I think it's actually pretty disgusting the way he was treated and the way that a lot of the media has covered it and made it about something that it absolutely isn't. We need to have a more thoughtful, two-sided conversation about racial issues in this country."
When Rapinoe took a knee during the national anthem at a second match, U.S. Soccer released a statement condemning her decision to protest, foreshadowing Saturday's reveal of a new policy forbidding it.
"As part of the privilege to represent your country, we have an expectation that our players and coaches will stand and honor our flag while the national anthem is played," the statement reads. 
While it's unclear whether U.S. Soccer players will defy the Federation's new guidelines, Rapinoe seemed to make a strong case for keeping up her protest back in September.
"It was something small that I could do and something that I plan to keep doing in the future and hopefully spark some meaningful conversation around it," she told ASN. "It's important to have white people stand in support of people of color on this."