Nike to release "Pro Hijab" for Muslim women in spring 2018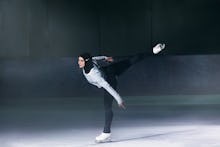 On the heels of its campaign ad featuring Muslim athletes, Nike is taking a stand against discrimination. The athletic wear company announced the release of the "pro hijab," Al Arabiya English reported on Monday.
"The Nike Pro Hijab may have been more than a year in the making, but its impetus can be traced much further back, to an ongoing cultural shift that has seen more women than ever embracing sport," a statement from Nike said, according to Al Arabiya English. 
The "pro hijab" is set to be released in spring 2018. Its creation follows years of controversy regarding Muslim women keeping their hair covered during athletic competitions. FIBA, the International Basketball Federation, currently bans the hijab during competitions. FIFA lifted its ban in 2014. 
Nike decided to create the pro hijab after several female Muslim athletes voiced their grievances at the lack of athletic wear to accommodate their religious practices.
"The Nike Pro Hijab was designed as a direct result of our athletes telling us they needed this product to perform better, and we hope that it will help athletes around the world do just that," Megan Saalfeld, global Nike spokeswoman, told Al Arabiya English.
Emirati Olympic weightlifter Amna Al Haddad visited Nike's Sport Research Lab in Oregon, where she said she only had one hijab that worked for her while competing and had to wash it by hand every night in a sink during tournaments.
From that moment, the concept of the Pro Hijab was born.
"From there, we worked with Amna and a variety of other athletes to see what they needed and wanted in a performance hijab," Saalfeld said. "What we heard was that women were looking for a lightweight and breathable solution that would stay in place without concern of shifting."
The mesh-like fabric and lightweight polyester material of the pro hijab would provide optimal athletic performance and breathability for female Muslim athletes competing and training in high temperatures.
But for Manal Rostom, a Nike+ Run Club Coach and an Egyptian athlete, Pro Hijab means something much more: inclusivity and representation.
"For a brand like Nike to come out and say that these people exist and are inclusive of hijabis is a big deal," Rostom told Al Arabiya English. "It's not just about making a product available for Muslim and Arab women but it is also giving a chance to those women who are putting off the idea of wearing the veil completely in order to compete."