Trumpcare vs. Obamacare: Here are the 5 biggest changes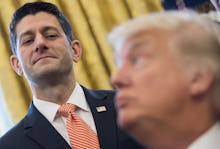 House Republicans on Monday released a draft of their plan to replace the Affordable Care Act, the Obama administration's signature health care law that reduced the number of uninsured Americans by 20 million people. 
Republicans have vigorously opposed the law known as "Obamacare" since it was signed into law in 2010 and vowed to repeal it. But until now, they had failed to put forth a plan to replace it.
In the draft released Monday, Republicans attempted to walk a fine line, trying to keep the most popular parts of the ACA — such as maintaining coverage for people with preexisting conditions — while getting rid of the elements they say made Obamacare a "failed" law.
President Donald Trump — who has made a priority of dismantling Obama's health care law — praised the Republican plan as "wonderful" and called the ACA "a complete and total disaster."
But the plan has come under fire from proponents of the ACA, who say the GOP's version will leave millions without health care, and from some Republicans who feel that the draft released Monday is merely "Obamacare Lite" and doesn't go far enough. 
Here are some of the key ways "Trumpcare" differs from "Obamacare:"
It dramatically cuts Medicaid
The ACA expanded Medicaid, which provides health care access for poor Americans. More than 11 million people were helped by Medicaid under Obama's plan. The Republicans' draft bill would phase out the Medicaid expansion starting in 2020 and change the way it is funded. 
Sens. Rob Portman of Ohio; Shelley Moore Capito of West Virginia; Cory Gardner of Colorado; and Lisa Murkowski of Alaska — all Republicans — announced Monday that they may not support the proposal put forth by House Republicans because of this provision, setting up a potentially rocky path forward for the proposed legislation.
"We are concerned that any poorly implemented or poorly timed change in the current funding structure in Medicaid could result in a reduction in access to life-saving health care services," the senators wrote in a letter to majority leader Mitch McConnell. 
The House plan also devotes significant attention to preventing "high dollar lottery winners" from accessing Medicaid.
It ends the individual mandate — sort of
A central tenet of the ACA was the requirement that all Americans obtain health insurance or pay a tax penalty. Proponents of the law said this would help make insurance affordable for older and sicker Americans, but Republican critics decried it as governmental intrusion into the lives of private citizens. 
The new proposal would eliminate the individual mandate, but allow insurance companies to charge a 30% penalty for lapses in coverage. Critics say this could trigger a "death spiral" in the individual markets because it "disincentivizes" buying insurance.
The GOP plan would also repeal the employer mandate, which requires large companies to provide affordable insurance to employees. 
It changes the way subsidies are distributed
Under the ACA, subsidies are distributed based on income. Under the new plan, premium subsidies would be distributed based on age and eliminate tax credits for out-of-pocket expenses.
It includes a tax break for high-paid insurance executives
The ACA capped the salary amount insurance companies can deduct on their taxes at $500,000 for executives. But the new plan put forth by the House would allow insurance companies to write off the entire amount of their executives' salaries, essentially incentivizing companies to jack up their top executives' incomes. 
It attacks Planned Parenthood
Planned Parenthood currently receives about $500 million in federal funding each year, which it uses to provide essential health care services to millions of women.
The House plan would prevent Medicaid from funding health care organizations that provide abortions, a direct shot at Planned Parenthood; the organization provides abortions, but does not use federal funds to pay for them because of the Hyde Amendment. 
Trump has indicated that Planned Parenthood may be able to keep its funding if it stops providing abortions.
Cecile Richards, president of Planned Parenthood Federation of America, said in a statement that defunding Planned Parenthood would hurt vulnerable Americans and that the organization would stand "strong against these attacks."
"Planned Parenthood's singular commitment is to the women and men who come to us for health care every day in communities across the country," Richards said. "We will always stand for women's ability to make decisions about their health and lives, without interference from politicians in Washington, D.C."