Mosques across the US have received death threats, including some from "Muslim slayer"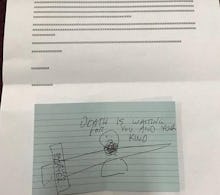 Four mosques in the Atlanta area were targeted with bomb and death threats, according to the Council of American Islamic Relations, the New York Daily News reported. 
Greenview Madani Center, a Muslim community center in Lawrenceville, Georgia, received a handwritten letter from the "Muslim slayer" stating that "death is waiting for you and your kind." A childlike drawing of a person being decapitated accompanied the letter.
Three other mosques in the Atlanta area received near identical emails that read: "MUZLIMS MEXICANS BLACKS WE WILL HUNTED NATION WIDE UNTIL ARE ARE DEAD OR GONE. . ."
"Georgia Muslims cannot allow anti-Muslim bigots to scare us away from proudly and publicly practicing our faith, whether those bigots are writing anonymous letters in a dark basement or writing policy in the White House," Edward Ahmed Mitchell, executive director of CAIR-GA, said in a statement. "But we should take steps to protect our rights, our houses of worship and our communities."
Mitchell also encouraged mosque leaders to work with local authorities to heighten their security measures.
In Lexington, Kentucky, another mosque, Masjid Bilal, received a handwritten letter that read, "An explosive device will be placed at your mosque very soon!"
According to CAIR's Facebook post, the same language in those emails were also sent to two mosques in Alabama, and the organization said it believes it is part of a mass email threat to mosques across the country.
American Turkish Eyup Sultan Cultural Center, a mosque in Brooklyn, New York's Brighton Beach neighborhood, also received threats from someone that identified themselves as a "Muslim slayer," the New York Daily News reported.
This string of bomb threats come on the heels of four arson attacks on U.S. mosques in seven weeks.