These women-owned companies are happy to take your business on A Day Without a Woman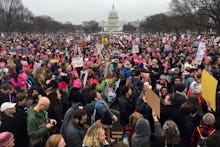 On Wednesday, March 8, International Women's Day is expected to be celebrated a little differently than in years past: The organizers behind the wildly successful Women's March have arranged for the A Day Without a Woman strike. Many businesses — and at least one school system — plan to close their doors in solidarity with the strike, which, the official website explains, aims to highlight the "enormous value that women of all backgrounds add to our socio-economic system."
The Women's March organizers detailed a plan of action for A Day Without a Woman, noting among other things that strikers should avoid shopping for the day — with the exception of supporting woman- and minority-owned small businesses.
While businesses across the country plan to close their doors in solidarity with  A Day Without a Woman, many people and very small businesses can't afford to skip work or close down for the day. Fortunately, some places have already done the legwork for local woman-owned businesses that plan to stay open on March 8, including Washington, D.C.; Boston; Milwaukee; Mendocino County, California; and Columbia, South Carolina.
Beyond just staying open, some businesses have planned events on March 8 to participate in A Day Without a Woman and the concurrent International Women's Day.
In Chicago's Edgewater neighborhood, 13 women-owned restaurants are taking part in a International Women's Day dinner crawl. 
In Kansas City, Missouri, City Gym, a woman-owned, trans-inclusive gym is planning a free Day Without A Woman workout session intended to provide "an opportunity for self care and to be in a community with like-minded individuals."
And designer Tory Burch is launching her "Embrace Ambition" campaign aiming to reclaim the word "ambition," which Burch's campaign argues has been used to "vilify" women. According to the New York Times, Burch plans to donate all the proceeds of T-shirts and bracelets related to the campaign to the Tory Burch Foundation, which aids female entrepreneurs.
What does A Day Without a Woman look like? Show us! Mic wants to see what your office looks like when women go on strike. Send your stories, photos and videos to ADayWithoutAWoman@mic.com and we may feature them in an article or on our social media channels.