Tamika Mallory: No, striking isn't an activity just for the privileged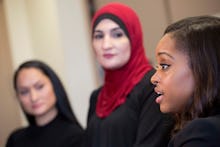 When the organizers behind the Women's March called for a women's strike, they definitely weren't planning a protest of privilege. Nonetheless, it's possible that well-off, salaried women will have an easier time taking part in Wednesday's strike, A Day Without Women.
As organizer Tamika Mallory explained at the Women's Summit in Selma, Alabama, on March 5 the question of privilege misses the point.
"When you hear people saying, 'Strikes are for privileged people,' that tells me that you have not studied your history," Mallory said. 
Nodding to Rosa Parks and to those who crossed Selma's Edmund Petus Bridge on their march for equal rights, Mallory explained that there will always be factions that discourage radical action on the grounds that it might be dangerous, or that it might make problems for others. And sometimes, action will be dangerous: Crossing the bridge, for example, demonstrators were attacked by Alabama police. But, said Mallory, without those willing to risk their lives and livelihoods, the Civil Rights movement would never have happened.
"If you know anything about your history, you will know that the most marginalized communities, those who are most impacted, are the ones who, over time, have been the strikers," Mallory said. "It's been people who are least comfortable who have decided that they are willing to take the extra step in order to protect their lives and to fight back against the system."
With respect to A Day Without a Woman, it's true that some of the women who stand to benefit most from a labor demonstration won't be able to participate. Women occupy an estimated 81% of low-wage jobs — not all of those women will be able to strike, whether because it's not financially feasible or because striking would put their jobs at risk. That's why it's important that women who can strike, do. 
"So to say that it is a privileged opportunity is absolutely wrong," Mallory explained. "It is in fact the opposite. The privilege comes in us understanding that if you are someone who cannot necessarily take off work that day, but I am someone who can, then I will take off for you."
What does A Day Without a Woman look like? Show us! Mic wants to see what your office looks like when women go on strike. Send your stories, photos and videos to ADayWithoutAWoman@mic.com and we may feature them in an article or on our social media channels.