Snapchat filters gone? Here's how to fix that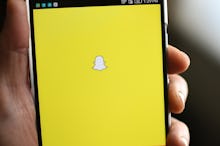 Whether you're trying to turn yourself into a puppy or face swap with your bestie, Snapchat filters and lenses are a fun way to communicate with fellow users.
If you have recently found that your Snapchat filters are missing or not working, you're not alone. Snapchat users have taken to Twitter to get help for their missing filters. Snapchat advises that users update to the most recent version of the app, which promises to fix bugs.
The recent update modified how users access filters. Previously, users had to open the camera screen within the Snapchat app and press on their face to trigger the filters feature to pop up. With the new update, users no longer have to press on their face. Instead, they merely have to tap on the screen to bring forth the filters.
Users who are still stumbling upon glitches in their app should try restarting their device to see if the reset solves the problem. If that fails, then delete the app and reinstall the app to your smartphone. 
Lastly, make sure your device is compatible with Snapchat. For Android, lenses are supported by Android 4.3 and higher. For iOS, lenses are supported on iPhone 4S, iPod fifth generation, iPad second generation and original iPad Mini devices and above.