You'll recognize this sassy character from 'Jessica Jones' in 'Iron Fist' episode 3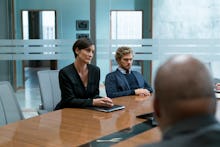 Since Netflix's latest superhero series Iron Fist takes place in New York — a crowded city with a plethora of Marvel superheroes featuring Jessica Jones, Luke Cage and Daredevil — it's no surprise that the titular hero is going to run into some familiar faces. It's probably only a matter of time until we see Claire Temple, aka Marvel television's Nick Fury equivalent, show up. But in the meantime, you'll recognize this character from Netflix's other Marvel show, Jessica Jones. 
Jones' lawyer friend, Jeri Hogarth, makes an appearance in Iron Fist's third episode. Turns out Hogarth knew Danny Rand back when he was a little kid — before the plane crash in the Himalayas that killed his parents and sent him on a mystical journey to K'un-Lun — and is handling the Rand family's estate, including leaving flowers at the Rand's tombstones (a bit odd for Danny, since he's symbolically buried there too!). 
Once Rand proves his real identity to Hogarth, she agrees to help him with his case against the Meachums, who want to make a financial settlement with Danny so he doesn't have any stake in Rand Enterprises. Danny, meanwhile, wants to become a majority shareholder at the company, given his family founded it. 
Hogarth also, very accurately, tells him to ditch his "homeless, hipster thing," which has been a constant struggle for Danny in the early episodes of Iron Fist. People are understandably confused when a (previously barefoot) guy in a hoodie claims he's the heir of a multibillion dollar company and has honed a mystical power known as the "Iron Fist" from a hidden monastery in the Himalayan mountains. So wearing something other than sweatpants and a hoodie might help his credibility in a legal battle over his family's company.  
Moreover, Hogarth's introduction in Iron Fist brings up some enticing possibilities for other cameos — namely, Jessica Jones. We know that Iron Fist should inevitably set up The Defenders: the Avengers-like team featuring Iron Fist, Jessica Jones, Luke Cage and Daredevil, which will be the next Marvel-Netflix series. Anytime a familiar face shows up, it's an exciting reminder that we'll soon see all the heroes share the screen later this year. 
Iron Fist season one is currently streaming on Netflix. 
Mic has ongoing Iron Fist coverage. You can follow our main Iron Fist hub here.