'Outlast 2' Release Date, Price and VR: New details on the first-person horror sequel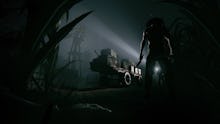 If you've already conquered your fears in Resident Evil 7 and need some more first-person horror in your life, you're in luck. Outlast 2 will be ready to terrify you in the very near future. Here's everything we know about the release date, price and more.
Outlast 2 release date, price and trilogy bundle revealed
The first-person scarefest Outlast 2 will launch on April 28 for PlayStation 4, Xbox One and PC in North America and the U.K., per IGN. It will cost $30.
The first game took place in a sinister asylum and had a unique camcorder mechanic, where you could hold up a camcorder and look through it as the game's equivalent of a flashlight. The battery was limited then and is limited in the game's sequel, which takes you to a variety of different indoor and outdoor locations. 
If you feel like shelling out an extra $10, you can spend $10 and get Outlast Trinity, a physical-only bundle of the first Outlast, its "Whistleblower" DLC and Outlast 2. That's a solid deal for horror fans.
Outlast 2 in VR?
Resident Evil 7 was playable entirely in virtual reality, but unfortunately that won't be the case for this first-person horror game. According to SegmentNext, Outlast 2 doesn't support VR at all. You'll have to settle for being scared the old-fashioned way.
More Outlast 2 news, updates, tips and tricks
For more on the latest entry in the Outlast series, check out the rest of what Mic has to offer. Here's a guide on the Outlast series' storyline, and here's one with beginning tips and strategies. Here are some tips on beating the finding bandages and the batteries. Finally, here's our guide hub where you can find all our Outlast 2 content.