The GOP health care plan to replace Obamacare is here. What we know and what we don't.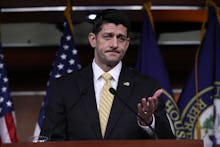 "Americans who want health coverage have access to health coverage" under this plan, Republican Congressman Larry Bucshon said on CNN Tuesday morning. As to whether people will purchase health insurance, Bucshon said, "I don't know. It will be up to the American people."
After years of pining to repeal the Affordable Care Act, Republicans announced on Monday their replacement health care plan, a proposal that comes down to choice. Republicans are touting their bill as an opportunity for Americans to have freedom to craft their own health insurance plan. But this bill touting greater choice for consumers could also bring volatility, cost increases and declines in coverage to the market. How effective the "American Health Care Act" will be in lowering insurance costs and providing coverage is very unclear. It is also unclear how much the bill could cost the federal government. The proposal, overseen by House Speaker Paul Ryan, is already drawing ire from both left and right. In fact, an open revolt is brewing among conservatives.
The bottom line is that the plan is ambiguous: It makes no mention of several key proposals — like lowering high prescription drug costs — that Trump discussed on the campaign trail. (More on that below.) Whether the plan will cut insurance coverage is also unknown, but early consensus is that it will lead to more expensive coverage for lower-income Americans. Republicans want to vote on the plan as soon as possible. 
The high-level takeaways:
•  The proposed health care law provides tax credits instead of federal subsidies to help cover health insurance costs. Those credits would be based on a person's age, ranging from $2,000 for someone under 30 to $4,000 for someone over 60. That could mean less financial assistance for low-income Americans who have a small-to-nonexistent tax bill to begin with.
•  Medicaid expansion would end in 2020. But those who gained insurance through Medicaid expansion prior to that will keep their coverage. This is an especially contentious issue for Republicans: Conservatives want Medicaid expansion repealed immediately, but key Republican senators do not want anyone who gained insurance to now lose it.
•  But it's not that simple. Federal money for Medicaid, which covers 70 million people, would be allocated to each state on a per-person basis. That would likely force states to try to pay the difference — with money they don't have.
•  Americans would no longer be mandated to purchase health insurance. Instead, people who go more than 63 days without insurance would be required to pay a 30% surcharge on their premium. That could discourage all but the sickest people who need coverage from reentering the market. More from Mic on what that means. A new poll shows half of Americans want the mandate to remain in place.
•  Planned Parenthood would be defunded. No federal funding is currently used to fund abortions, per federal law, and many are calling the move to pull funding from the health organization an unnecessary attack on reproductive health care. The White House recently told Planned Parenthood if the organization stopped performing any abortions, threats to federal funding would drop. The group declined the offer.
•  It roughly doubles what you can put in a health savings account. Individuals can now put up to $6,550 annually into a pre-tax account to help cover health care costs. Republicans have touted this as a way to let individuals plan for their own health care emergencies — but the account is only helpful if you can afford to save in it.
•  The bill maintains coverage for pre-existing conditions and lets children remain on their parents' plans until they are 26.
•  Nearly all the taxes associated with medical plans and devices instituted by the Affordable Care Act are repealed immediately.
The plan notably does not include provisions to lower the cost of prescription drugs or sell insurance across state lines. That drew ire from Trump supporter and conservative talk radio host Laura Ingraham on Tuesday morning. Trump responded with two tweets, saying that selling insurance nationally will come in "phase 2 & 3" and that "I am working on a new system where there will be competition in the Drug Industry."
Republicans say these changes will bring down skyrocketing premium costs. Democrats say this plan will cause a collapse of the American health insurance market. We don't know the truth, because the nonpartisan Congressional Budget Office has yet to score the bill. That means Republicans are planning to press ahead without facts about its impact, including how much it will cost and whether it will cause anyone to lose coverage. Democrats were criticized in 2010 for advancing the Affordable Care Act without sufficient time for members of Congress to review it. But that bill was 1,990 pages and more than 230,000 words, while the GOP plan is a mere 123 pages.
Answering questions about cost, Rep. Jason Chaffetz, the Republican chair of the House oversight committee, told CNN Tuesday morning, "Rather than getting that new iPhone that [Americans] just love and they want to go spend hundreds of dollars on, maybe they should go invest in their own health care. They've got to make those decisions themselves."
Some provisions and uncertainties in the Republican bill are already causing controversy. The new bill may eventually cut access to essential health benefits protected by the current law. That means coverage for pregnancies, prescription drugs, mental health treatments and more may not be required federally. People living in states that require that coverage would remain protected, but others could lose it.
To pass the bill, the GOP can afford no more than 21 defections in the House and two in the Senate. No Democrats are expected to support the bill, but it has the backing of the White House. Trump tweeted Tuesday morning that the bill is out for "review and negotiation." Things are already on rough footing, with Republican Sen. Rand Paul tweeting Tuesday that the plan "will not pass." He wants a #FullRepeal — which would draw no votes from GOP senators concerned about a repeal of Medicaid expansion. 
You can read the entire bill here.
This is Navigating Trump's America, Mic's daily read on Donald Trump's America — and how it affects you. Welcome to the political newsletter that hopes for some clarity. 
A showdown with China
The U.S. has deployed a missile-defense system to South Korea and drawn sharp rebuke from the Chinese in the process. China says the American system, positioned on the peninsula to counter North Korea's recent advances in missile technology, could be used to spy on China's military. The defense system arrived on Monday, a day after North Korea tested four missiles — one of which flew more than 600 miles before crashing into the Sea of Japan. The Chinese, already in a contentious relationship with Trump, said there will be "consequences" over the U.S. deploying the system so close to the nation with the world's largest military. Deployment of the defensive missiles was ordered by then-President Barack Obama and planned for months.
Familiar praise for Exxon-Mobil
Trump decided Monday to heap praise on another large American corporation — but this time, that company happened to be the former employer of Secretary of State Rex Tillerson. Trump tweeted praise for Exxon Mobil for an announcement that it will invest $20 billion in new jobs and manufacturing in the United States. "Thank you to @exxonmobil," the president said. The White House also sent out a press release announcing Trump's support for the investment. Curiously, the administration's release shared identical language with an Exxon Mobil press release issued a half hour earlier. Tillerson, of course, was Exxon's longtime CEO, who during his confirmation hearings faced tough questions from senators about his ties to Russian President Vladimir Putin.
Untruth of the day
Apparently while watching Fox & Friends, Trump tweeted Tuesday morning that, "122 vicious prisoners, released by the Obama administration from Gitmo, have returned to the battlefield." That is a gross overstatement. While 122 former Guantanamo Bay detainees have been released from U.S. custody and re-engaged in terrorism, only nine were freed during Obama's presidency. The other 113 made their exits during George W. Bush's administration.
The man who could oversee the Russa investigation is on Capitol Hill today
Rod Rosenstein's confirmation hearing would not normally attract so much attention. But Trump's nominee to become deputy attorney general has quickly become a key figure in Washington. If confirmed by the Senate, Rosenstein will oversee any Justice Department investigations into Russia and Trump's campaign. Attorney General Jeff Sessions recused himself from such inquiries on Thursday after it was revealed he met with the Russian ambassador to the U.S. twice in 2016. Sen. Richard Blumenthal, a Democrat who wants Sessions to answer additional questions before the judiciary committee, has said he will do whatever he can to block Rosenstein's appointment if the nominee for deputy attorney general does not commit to appointing an independent special prosecutor.
Speaking of Jeff Sessions: The attorney general defended his testimony, which some have equated to lying under oath, that attracted a firestorm of criticism last week. Sessions sent a letter to the Senate judiciary committee saying his answer was "correct" and that he did not mention meeting with the Russian ambassador because he was not directly asked about it. 
News and insight you cannot miss:
•  Wikileaks is back. After a brief lull in the headlines following the election, the organization announced Tuesday it has published thousands of documents that detail the CIA's "global covert hacking program." The latest on this colossal leak.
•  If you haven't heard what Ben Carson said yesterday, just know that it involves slavery and immigration, and it's not pretty. Definitely don't miss Samuel L. Jackson's response. (Mic)
•  New photos confirm what we already knew: Trump's inaugural crowds were smaller than Obama's and those the Women's March. This really isn't up for debate. See for yourself.
•  Steve Bannon has a bizarre fascination with a racist novel — and it's informing immigration policy. (Mic)
•  The #DayWithoutWomen movement is picking up steam, with school districts in Chapel Hill, North Carolina, and Alexandria, Virginia, closing. Mic has tracked 14 strike rallies happening in cities across the country for the #DayWithoutWomen. Read the list here.
•  The Anti-Defamation League is reporting more bomb threats across the U.S. (Twitter)
•  A crackdown on illegal immigration would be paid for with cuts to FEMA, the Coast Guard and airport security. (Politico)
•  The former British spy who assembled the "golden showers" dossier on Trump is back at work. He spoke with reporters in London. (NBC News)