'Horizon Zero Dawn' Update 1.03: Patch notes and bug fixes for the newest PS4 update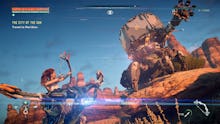 Horizon Zero Dawn update 1.03 brings some small but much-needed fixes to the PS4 title. Here are the patch notes. 
Guerrilla Games' Horizon Zero Dawn has captivated PlayStation users with its sweeping vistas and mechanical deer hunting — but no game is perfect. An ambitious open-world game like this is sure to have some bugs at first, and Horizon Zero Dawn was no exception — "was" being the operative word here. 
Horizon Zero Dawn update 1.03 patch notes and bug fixes
If you have the game installed on your PS4 and check the update history, all you'll get is a vague promise of "bug and crash fixes." This is not a significant update that will alter your experience in any meaningful way unless you're one of the people who reported a crash during the game's opening cutscene. If that's the case for you, then this patch is probably a godsend. 
Otherwise, you're going to have to wait a while for anything huge to come to the game via a free patch.
Horizon Zero Dawn review and more gaming news and updates
For more gaming news, check out the latest from Mic. Here's the most recent news on Middle-earth: Shadow of War, a beginner's guide to For Honor and our review of Horizon Zero Dawn.