'Powerless' showrunner talks collaboration with DC and the future of the series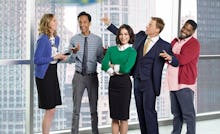 There really is no better time to be a comic-book fan. Whether you look to television or film, you can watch one of your favorite heroes nearly every day of the week. But what if you're looking for some cool nods to the universes you love, but also want to laugh? If that's the case, you may want to check out NBC's new series Powerless. 
As the first sitcom set within the DC Comics universe, Powerless is a unique workplace comedy that primarily focuses on the ordinary employees of Wayne Security. If you're hoping for references to some of DC's most popular characters, though, you're in luck. While they may never appear, some of the Justice League's main players do have their presence felt — especially Batman.
Still, the focus of the show is on the lesser-known characters in the DC universe, which, in addition to being a comedy, allows Powerless to stand out from some of the other comic-book shows on air. Mic recently spoke with Powerless showrunner Patrick Schumacker, who discussed what it's like collaborating with DC, how the writers come up with so many comic book-related jokes and what fans could expect from a second season.
(Editor's note: The answers have been edited and condensed for clarity. Spoilers for Powerless ahead.)
Mic: How do you and the writers come up with all these comic book-related tropes and jokes? Is everyone knowledgeable of comics?
Patrick Schumacker: We have a pretty diverse group on the writing staff in terms of comic-book knowledge and pop-culture knowledge in general. A lot of different backgrounds. I'm a huge comic-book fan — I have an X-Men tattoo. I have subscribed to some comic in some way, shape or form probably since Jim Lee's X-Men came out. 
Also, DC is just one phone call away, so any questions we have about canon, or we'll say "Hey, we want to do an episode where there is an alien race that comes out of a wormhole. What kind of alien race do you think we should use? This is what they are going to do. Can they be Manhunters? Can they be the Blight?" 
In terms of jokes and tropes, most of the writers are pop-culture savvy enough that it just sort of comes to us. Also, if a joke comes up in the room and it doesn't apply to that particular script, we will just file it away for future use.
In terms of the collaboration with DC, how much leeway do you get? For instance, the most recent episode had a lot of fun with Batman. He was a major presence, even if we didn't actually see him. Is that something DC had to sign off on?
PS: We don't have complete autonomy. DC is, of course, very rightfully protective of their characters. We do run anything DC-related — they don't always request that we run it by them, we just try to do our due diligence. We want to make sure we're not in the position where we shot something that is put in the cut — it is completely pertinent to the story, like basically un-cuttable, and then we're in a situation where they need us to cut it because they have plans for that exact thing to happen in a feature.  
We try to live within our own world where things happen concurrently to the [Zack] Snyder-verse and the [Greg] Berlanti-verse and that kind of thing. But yeah, we definitely want to keep them in the loop. They will have opinions on stuff, and sometimes it's a little bit of negotiation. But for the most part, I would say that Powerless — and you kind of alluded to this before — Powerless, probably more than any other show, gets away with including everything in some way, shape or form.
If it's a reference, or if you're actually seeing a character or an object or something like that that has some claim to fame in the DC universe, we're able to incorporate it in some level. 
At least in my opinion, Powerless has the best opening titles for a comic-book TV show on the air right now. Those came from the original pilot. How easy of a decision was it to keep them when you guys came on board and redesigned the show?
PS: There was, like, no question about it. We were like, "If there was one thing that we were going to retain from the show, it was the main titles." They're brilliant. It is a company called Elastic that created them based on a concept that the original showrunner, Ben Queen, had come up with — to the best of my knowledge. Those were always there. Even as early as Ben's original pitch when he was pitching the show to networks, I think there was a more rudimentary version of it that they had created. It perfectly encapsulates the show in 25 seconds. 
It's also one of the first main titles that I've ever seen that got laughs. I went to the screening of the pilot at Comic-Con back in July, and the theater erupted when there was a [music] cue change and a quick zoom in to one of the innocent bystanders. It was pretty cool. It was a no-brainer. There wasn't even a conversation about it. I think Warner Bros. was like, "Do you wanna keep the main titles?" And we were like, "Yes."
And using the original comic-book covers as a base is just great.
PS: Yeah, and then we were able to add Ron Funches to the mix because he was a later addition to the show, post-original pilot. We were also able to keep Craig and Jefferson, our composers. They are the guys that did that score and scored the original pilot. They're great.
The original pilot was set within an insurance company, and you guys switched it over to the Wayne Security R&D angle. That seems to allow for more of the superhero tropes, with all the destruction and gadgets. What else do you like about the decision to go to Wayne Security? What other options does that open up?
PS: It just felt like it was a way to more organically bring in the fantasy and genre elements into the office. We're doing a show about the everyday people that exist within a universe of gods and monsters. You are only going to get so much from having superheroes fly by the outside window. We need them to interact in some way, shape or form. 
So aside from the occasional drop-by from Crimson Fox, Green Fury or the Olympian, we thought that these gadgets that they're creating to essentially prevent these attacks versus the insurance of it all — which is more of a reactive thing — we felt it opens up the dialogue more and makes their job closer to the supernatural stuff, while still maintaining the everyman quality of our series regulars. 
Originally, we batted around a bunch of ideas in the months while the show was down. We landed on the security products of it all when we took a meeting with Geoff Johns and DC. Their pitch was the security angle, and we fell in love with that immediately. Thought it could totally work. NBC actually came in with the R&D idea, and we were like "Alright, let us get back to you and think about it." And it was just like an hour conversation, because it made a hell of a lot of sense. 
The Powerless ensemble is a fantastic collection of comedic actors and actresses. Even Vanessa Hudgens, who is probably the least experienced in terms of comedy, has really come into her own these last few episodes. How easy does this cast make telling these jokes and stories?
PS: Yes. Absolutely. We were gifted with this cast. They were all, with the exception of Ron and Jennie Pierson — who plays Wendy — a part of the original pilot. The idea to add Ron came on, actually, during the old regime, so we were prepared to write for him. And we were familiar with him having worked with Bill Lawrence before, and Ron being on Bill's cast on Undateable. 
I don't think anyone from the cast has ever worked with each other before, but it was just instantaneous. Well, first off, I think some of the camaraderie came from being up in Vancouver shooting the pilot and not really knowing anybody. So there was that. Everybody gelled really quickly. And everybody brings something super-specific and different to the table.  
Have you started mapping out what you would like to see in a second season? 
PS: It has come up. But we really are trying to concentrate on finishing out the first season strongly. We were in a very unique position coming onto the show where we had to shoot the pilot, and then immediately upon finishing the pilot, go right into shooting the second episode. We were doing away with almost everything from the original pilot. 
The train sequence was the only thing that remained from the original pilot, because we were like "Let's not toss that aside when they spent all that money on that big train sequence. It seems like a fun blockbuster way to open the series." But because of that, we didn't have the usual several months of pre-production post-pilot that you would normally have.
We are planning two umbrella approaches to a theoretical season two, but specifics, not so much. There are people we want to bring back in terms of superheroes. There are some other superheroes we were not able to use in the first season that if we get the second season, we would absolutely try to bring about. 
The most recent episode gave us the biggest look yet into the personal lives of the characters — specifically Emily. Is this something we are going to see more of going forward, seeing the characters step out of the office and into the real world?
PS: Yes, absolutely. The next episode is more of an insight into Teddy's family and why he is the particular perfectionist that he is. His brother is both a physician and an astronaut. There is a little taste of Wendy's family life we are talking about in the season finale. In an episode we will get to know about Jackie and her history, and we meet her young daughter, whom she is raising as a single mom. So we kind of understand why she is more of a prickly personality. 
What else can you say about what it's like to work on Powerless? 
PS: It's been awesome. I just want people to watch the show. There is a lot of potential there. The big changes we've made, for the most part, people are enjoying. I know there are a handful of detractors that I can anecdotally account for on Twitter that say the original pilot was their preference. 
There is a lot to be done in this world and we have a lot of stories to keep telling, so I hope people watch and we get the chance to keep doing it. Because it would be an awful waste of a great cast and writing staff to not live on. 
Mic has ongoing coverage of Powerless. Check out what showrunner Patrick Schumacker had to tease about Richard Donner's Superman and an alien invasion in the season finale. You can follow our main Powerless hub here.