Meet the Rutgers students who invented an eco-friendly transportation service for refugees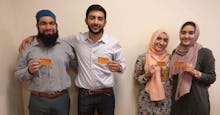 President Donald Trump wants to ban refugees from entering the United States. But these Rutgers University students want to help refugees live with dignity.
Rutgers Business School seniors Gia Farooqi, Hasan Usmani, Moneeb Mian and alumna Hana Lakhani — who are all Muslim — pitched Roshni Rides to the international social entrepreneurship competition Hult Prize for a $1 million prize.
The group won the regional finals of the competition in March, out of 50,000 applicants, coincidentally a few days before Trump announced a new executive order for a 120-day ban on refugees entering the U.S. The team beat out schools like Harvard, Yale and Purdue, and is one of five regional winners across the world, Umair Masood, Rutgers' campus director for the Hult Prize, said in an email.
Roshni Rides is an eco-friendly rickshaw service, a two- or-three-wheeled man-powered passenger cart, that will allow refugees to travel with ease and without a financial burden. If the team wins the $1 million prize, Roshni Rides would start its service in Orangi Town, Pakistan.
"In Urdu, the word Roshni means light," Farooqi said in an email. "Since so much of what we are about has to do with sun and electricity it made sense. After all we are trying to create brighter lives, one ride at a time."
According to Masood, Roshni Rides will attend an eight-week summer accelerator program in Boston before starting their pilot program. The final round for the Hult Prize is in September.
Roshni Rides is a tribute to one of the teammates uncle's who lived as a refugee in Orangi Town before coming to the United States.
"Roshni Rides was inspired by one of our teammates' uncles, Barakat Ali, a refugee who lived in Orangi before immigrating to the United States," Farooqi said. "Barakat was a part of the transportation business and saw how many people struggled to get access to basic resources like health care because there was no infrastructure or enough transportation to get there."
The team said they picked Orangi Town because there is an extraordinary amount of demand for a cheap transportation service. The service's afforability — at just 13 cents per day — also comes from the fact the rickshaw service will be fueled through renewable energy.
Orangi Town is considered one of Asia's largest slums, according to Reuters, and has a population of about 2.4 million people. It's located in the Karachi region where upwards of about 68,000 Afghan refugees currently live.
"With a density of 55,000 people per square mile (as compared to NYC's 27,000), there is a high demand for an affordable transportation service," Farooqi said. "That's why we came up with Roshni Rides. Our solar eRickshaw service has a very low operational cost due to renewable energy allowing us to create a low price point."
But Roshni Rides is about more than getting from point A to point B, it's about promoting sustainability and providing employment opportunities for refugees in need. 
"We hope to revolutionize the transportation world with Roshni Rides and help restore sufficiency and dignity to millions of refugees around the world," Farooqi said.