Entire Senate joins forces to call for action on Jewish Community Center threats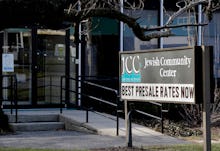 In a rare display of bipartisanship, all 100 United States senators signed a letter on Tuesday calling for President Donald Trump to investigate the recent rash of bomb threats against Jewish Community Centers.
The letter, addressed to Attorney General Jeff Sessions, Homeland Security Secretary John Kelly and FBI Director James Comey cites data from the JCC Association of North America which said there have reportedly been at least "98 incidents against JCCs and Jewish day schools at 81 locations in 33 states."
"We are concerned that the number of incidents is accelerating and failure to address and deter these threats will place innocent people at risk and threaten the financial viability of JCCs, many of which are institutions in their communities," the letter reads.
The senators also request that the Trump administration contact JCCs and community centers regarding, "victim assistance, grant opportunities or other federal assistance that may be available to enhance security measures and improve preparedness."
Although Trump publicly condemned the anti-semitic threats during a brief set of remarks on on Feb. 21, for some, the president's comments were too little, too late.
The most recent threats against the Jewish community include a nationwide wave of bomb threats against JCC centers on Feb. 27, and the desecration of a Jewish cemetery in Philadelphia on Feb. 25.