'Voodoo Vince: Remastered' Release Date and Price: When you can get it on Xbox One, PC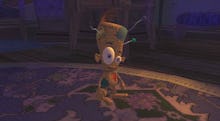 Voodoo Vince: Remastered, a visually upgraded version of the 2003 original Xbox game, finally has an official release date: April 18. It'll be a "play anywhere" title, which means if you own it on Xbox One, you'll also have it on a Windows 10 PC. It'll also be available to purchase on PC through Steam, according to IGN.
Voodoo Vince: Remastered trailer
To celebrate the announcement, developer Beep Games released a new trailer that shows off Voodoo Vince: Remastered's upgraded visual fidelity.
OK, what the heck is Voodoo Vince: Remastered?
If you've never heard of it, Voodoo Vince is a 3-D platformer game, like Psychonauts or Jak and Daxter. It stars Vince, a voodoo doll with powers that require you to take damage from spike pits, fire and the like to inflict harm on your enemies.
We can't help but think Xbox head Phil Spencer's own deep affection for the original Voodoo Vince weighed heavily in the decision to remake this old-school platformer — but whatever the reason, it's nice to see ol' Vince again.
Voodoo Vince: Remastered price
Voodoo Vince: Remastered will cost $14.99.
More gaming news and updates
Check out the latest from Mic, including our deep dive into how female Overwatch players are dealing with online harassment, a cool Easter egg in the latest Pokémon Go update and everything that comes in the $300 Shadows of War: Mithril Edition.