Looking for the best meme page on Instagram? These are our favorites.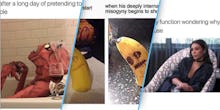 Amid the selfies, outfits of the day, travel porn and food pictures, meme accounts can deliver your daily dose of humor in your Instagram feed. There's no shortage of funny accounts to follow, but there are some that are better than others — and some that are more original than others. Below are some popular and funny accounts to follow.
@MyTherapistSays — With over 1.5 million followers, @MyThereapistSays curates memes with pop culture relevance that will make you laugh. Chances are, you've been tagged in one of the posts on these accounts. 
@CelesteBarber — This account is not quite memes but comedian Celeste Barber re-creates celebrity Instagram pictures in good fun. Models, influencers, musicians and actors are all targets. Barber offers a more realistic rendition of what people share on Instagram. 
@SarahAndersenComics — One peek into this feed and it's hard not to spiral down memory lane. Sarah Andersen's comics are timely, relevant and just seem to get you. 
@Betches — With over 5 million followers, @Betches compiles memes, funny tweets and more.
@BeigeCardigan — The better half of @FuckJerry, @BeigeCardigan is a curated profile with nearly 3 million followers of some of the internet's funniest memes. 
@ByeFelipe — A play on "Bye Felicia," this account pokes fun at people who "turn hostile when rejected or ignored." User crowdsourced, the account has almost 500,000 people following its memes and hilarious screenshots of petty people.