'NBA 2K18' Release Date Predictions for PS4, Nintendo Switch, Xbox One: An educated guess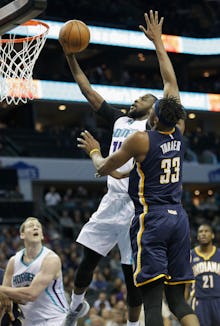 We know NBA 2K18 will release for PlayStation 3, PlayStation 4, Xbox 360, Xbox One, PC and the Nintendo Switch in September — but we don't know the exact date. Here's our best guess, based on what we know about the popular hoops series.
NBA 2K18 release date predictions for PS4, Xbox One and Nintendo Switch
Last year's game had an official release date of Sept. 20, but it was made available to those who pre-ordered on Sept. 16.
In addition to the early access for pre-order customers, NBA 2K17's arrival was boosted by a pre-release companion game called The Prelude. It was made available on Sept. 9, an entire week before the early access date. There's been no news of a Prelude game this year, but that doesn't mean it won't return.
We're still at least six months away from release, so there's obviously still a lot left to learn about the game. However, if we use last year's schedule as a barometer, an Early-Tipoff edition would likely hit on Friday, Sept. 15, with an overall retail release date of Tuesday, Sept. 19.
September is routinely a month that is packed with sports video game releases. FIFA, NHL and Pro Evolution Soccer have routinely hit stores the same month. With NBA 2K's popularity, it's hard to imagine 2K18 changing things up too much scheduling-wise.
More sports gaming news and updates
Are you a sports gamer? Check out more content from Mic, including news on Tips on leveling up your NBA 2K17 MyPlayer, Playing QB in Madden 17 and the latest information on MLB The Show 17.