Beyoncé reciprocates Adele's love for her via Blue Ivy's dress at the Beauty and the Beast premiere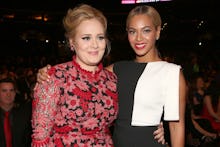 At the 2017 Grammys, Adele was't shy about her affection for Beyoncé. When she accepted her award for album of the year, she announced: "the artist of my life is Beyoncé." Backstage, she said: "What the fuck does she have to do to win album of the year?" 
And even on the red carpet, she let her love be known, sporting a lemon pin in support of Beyoncé's Grammy-winning album Lemonade. 
Now it seems as though Beyoncé herself is returning the favor. Blink and you'll miss it, but on Blue Ivy's custom Gucci dress that she wore to the premiere of Beauty and the Beast, there appears to be a small heart patch that reads "25," the title of Adele's own album. 
It's right in the middle of Ivy's dress, which sells for $26,000 for the not-custom adult version. 
Of course Twitter caught it first. 
So apparently, the love is mutual.