Poachers broke into a French zoo and killed a rhino for its horn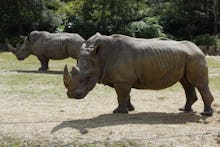 Poachers shot and killed a 4-year-old white rhino named Vince in his enclosure at a French zoo on Monday, making off with the animal's horn.
Zookeepers who arrived at the Thoiry Zoo on Tuesday morning found Vince dead after three gunshot wounds to the head. His horn — a single kilogram which could be worth as much as $60,000, according to current estimates — had been hacked off with a chainsaw, and a second, partially sawed-off horn had been left behind by the thieves.
According to the BBC, this is likely the first time poachers have successfully targeted and dehorned a rhino living in a European zoo.
As the number of wild white rhinos dwindles, their horns, which many Asian cultures believe to have medicinal properties, have become increasingly valuable.
While Vince's death is a tragedy, there is a small saving grace: According to the Thoiry Zoo, two other white rhinos in their possession — 37-year-old Gracie and 5-year-old Bruno — were both left unharmed in the attack.