16 'Buffy the Vampire Slayer' celebrity cameos you may have forgotten about — in GIFs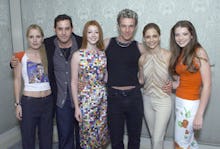 There can be only one slayer — but there can be plenty of guest stars!
Buffy the Vampire Slayer is celebrating its 20th anniversary Friday, and we're looking back at the moments that made the series memorable. That includes cameos from some now-famous stars. Check out which of your favorite celebrities were lurking in the shadows of Sunnydale during the series' run from 1997 to 2003.
Clea Duvall
American Horror Story alum Clea Duvall was barely on screen in season one, episode 11 of Buffy the Vampire Slayer, but she still made a memorable villain. Duvall played a student named Marcie — and Marcie just happened to be invisible. She attempted to mutilate Cordelia's face in order to show the "popular girl" at school what it was really like to feel alone. Buffy stopped her in time and the FBI came to take Marcie away. But Marcie didn't get locked up. She was taken to a school with other invisible children who teaching "assassination and infiltration" tricks.
Bianca Lawson
Buffy's death at the end of season one — despite being brief — triggered the arrival of a new slayer. Bianca Lawson portrayed Kendra Young, a slayer from Jamaica who traveled to Sunnydale to fight the demons that lurk around the Hellmouth. Kendra only lasted three episodes before being killed by Drusilla, but Lawson — who is also Beyoncé's step-sister — went on to have a successful career. She's had recurring roles on Pretty Little Liars, The Vampire Diaries, Teen Wolf, Witches of East End and more. You can catch Lawson as Kendra in season two, episode nine.
John Ritter
John Ritter played a loving dad on 8 Simple Rules, but he was almost the step-father from hell on Buffy the Vampire Slayer. Buffy's mom, Joyce, fell in love with Ritter's character, Ted, even though Buffy insisted that something was off with him. Buffy and Ted eventually get into a scuffle that resulted in his death — but Ted didn't stay dead. The gang later discovered that he was a robot. Watch Ritter in season two, episode 11.
Shane West
Blink and you may miss Shane West in season two, episode 20. The actor had a small role as Sunnydale High School swimmer Sean, who turned into a sea monster thanks to "aromatherapy" sessions in the team's steam room. The "aromatherapy" was actually an old Soviet Union drug experiment that the coach was using to enhance the swim team.
Wentworth Miller
West wasn't the only familiar face on the swim team. Prison Break alum Wentworth Miller portrayed Gage, who also had the misfortune of transforming from a student to a monster — but not before being attacked by Angelus and turning to Buffy for protection.
Conchata Ferrell
Conchata Ferrell is best known for her role as Berta the housekeeper on Two and a Half Men. But before the Emmy nominated actress began cleaning up after Charlie and Alan, Ferrell played Ruth Greenliegh, the Sunnydale school nurse. Like West and Miller, Ferrell can be seen in the swim team episode. Ruth was initially in cahoots with the coach, but he turned on her and fed her to his sea monster swimmers.
Michael Cudlitz
Michael Cudlitz played a zombie long before joining The Walking Dead. The actor can be spotted as a character named in season three, episode 13 of Buffy the Vampire Slayer. Bob was a Sunnydale student who died from a gunshot wound while robbing a store. One of his friends brought him back from the dead in order to wreak havoc on town and blow up the school. 
Pedro Pascal
Pedro Pascal is best known for playing Oberyn Martell on Game of Thrones. But before he had his head smashed by The Mountain, he was turned into a creature of the night by a gang of vampires.
Pascal can be seen in the season four premiere of Buffy the Vampire Slayer as Eddie, a fellow student at the University of California, Sunnydale. Buffy and Eddie befriend each other one night while lost on Campus. Unfortunately for Eddie, he didn't make it back to his dorm alive.
Doug Jones
If the name Doug Jones doesn't ring a bell, then the name Billy Butcherson might. Doug Jones is known for his role as the lover of Sarah and Winifred Sanderson in Hocus Pocus. Just a few years after playing the helpful zombie, Jones appeared in season four, episode 10 of Buffy the Vampire Slayer. Jones portrayed one of the Gentleman, a group of demons that stole voices and hearts.
Kal Penn
You may not remember, but Buffy partied with Kal Penn in season four, episode five. The Harold and Kumar star was featured in the "Beer Bad" episode as Buffy's drinking buddy, Hunt. Buffy was drinking with some upperclassman who didn't realize that the beer turned them into "Neanderthals." 
Amy Adams
Who wouldn't want Amy Adams as their cousin? Well, maybe Tara. Adams portrayed Beth, Tara's cousin, who shows up in Sunnydale to persuade her to come back home with her father and brother. You can catch her in season five, episode six.
Amber Tamblyn
Sisterhood of the Traveling Pants star Amber Tamblyn joined in on some Halloween hijinks in season six, episode six of Buffy the Vampire Slayer. Tamblyn can be seen on-screen as Dawn's friend, Janice.
Alexandra Breckenridge
Alexandra Breckenridge appeared in the season seven premiere as Kit, a student at the newly rebuilt Sunnydale High School. Dawn befriended Kit after spirits invaded the school. Breckenridge has gone on to star in American Horror Story, The Walking Dead and This Is Us.
Ashanti
Xander always fell for the wrong women — and Ashanti's character was one of them. The singer portrayed a demon named Lissa who wanted to sacrifice Xander to raise an ancient and powerful vampire. Fortunately for Xander, Buffy was there to save the day. You can catch Ashanti in season seven, episode 14.
Nathan Fillion
Nathan Fillion may have spent eight seasons solving crimes on Castle, but on Buffy the Vampire Slayer he played the villain. Fillion portrayed Caleb, a woman-hating priest and serial killer who became hell-bent on destroying the Watcher's Council and all potential slayers. He was the one responsible for gouging one of Xander's eyes out. Watch his first appearance in season seven, episode 18.
Rachel Bilson
Season seven, episode 18 also introduced Rachel Bilson's character, Colleen. Colleen was a potential slayer recruited by Buffy and the gang.
Mic has ongoing Buffy the Vampire Slayer 20th anniversary coverage. Check out the main Buffy hub here.